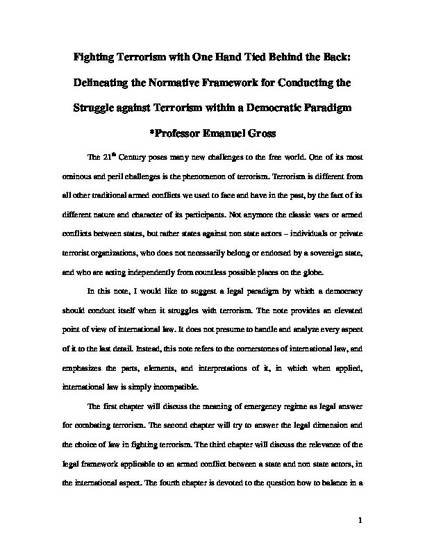 Unpublished Paper
Fighting Terrorism with One Hand Tied Behind the Back: Delineating the Normative Framework for Conducting the Struggle against Terrorism within a Democratic Paradigm
ExpressO (2010)
Abstract
The new age and the globalization process exposed us to many new phenomenons; some are totally unfamiliar, and some are deviate variation of their old version. Terrorism, one of the most despised and rejected phenomenon, can meet both these descriptions. The purpose of this article is to suggest a preference for a democratic state to conduct itself in her struggle against terrorism. The article reviews the dealing of Israel as a democratic state with terrorism, through two sides of the same coin: the inner-relations between the state and its citizens, and the external-relations of the state with international community. Concerning the turf of reciprocal relations between the state and its citizens, the article reviews the norms of Israeli law and judicial system, relevant to the subject in matter. It demonstrates the delicate balance of enabling the fulfillment of civil rights on the one hand, and on the other – the need to restrict them in order to defend the civilian population; Furthermore, it stresses the moral and ethical dilemmas in which Israel, as a democracy, confronts with while facing an entity that doesn't recognizes moral issues. As to the international turf, the article takes a criticizing stance. It argues that international law as it stands is not balanced when being applied on an armed conflict between a state and a non-state actor. The changing reality reveals that there are scenarios the drafters of regulations like Hague and Geneva conventions had not taken under consideration, and thus created a lacuna in the corpus of laws of war. As far as it concerns to a state engaged in warfare with a terror organization, and particularly in the sui generis circumstances like in the Israeli-Palestinian conflict, the different rules mounded along the years and seemingly should regulate this confrontation, are off track when applied. The article uses the example of the goldstone report to demonstrate this, and also the ICRC interpretative guidance document (2009), which recognized the problematic situation in hand. This note sets out the different limitations in both grounds: the international surface and the inner-state surface, while understanding that the former is evidently interlinked to the latter. Hence, it points out the inadequacy and difficulties arises while applying the existing legal framework, and suggests a reform that would eliminate the present asymmetries and lead the rules of war to the new era – an era in which sovereign states are forced to defend themselves from terror organizations, that as far as they concern, there are no rules binding them.
Publication Date
August 10, 2010
Citation Information
Emanuel Gross. "Fighting Terrorism with One Hand Tied Behind the Back: Delineating the Normative Framework for Conducting the Struggle against Terrorism within a Democratic Paradigm"
ExpressO
(2010)
Available at: http://works.bepress.com/emanuel_gross/2/