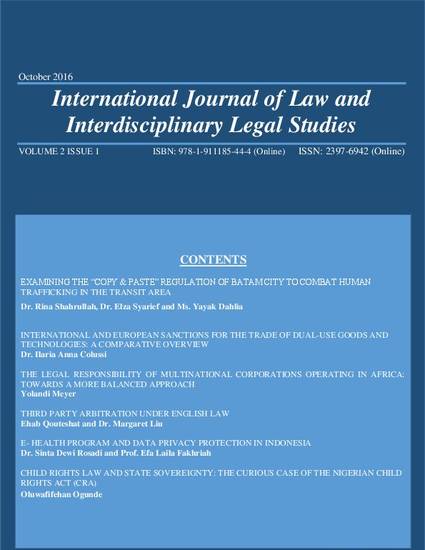 Article
Examining the "Copy & Paste" Regulation of Batam City to Combat Human Trafficking in the Transit Area
International Journal of Law and Interdisciplinary Legal Studies (2016)
Abstract
Batam City of Riau Island Province is a destination and transit area for the embarkation and debarkation of human trafficking victims in Indonesia. In 2013, the Batam City Government issued Municipal Regulation No.5 on the Prevention and Handling of Human Trafficking Victims (henceforth 'Batam Human Trafficking Regulation'). This regulation has caused controversy among stakeholders in regards to its effectiveness in combating human trafficking. This paper evaluates the effectiveness of the Batam Human Trafficking Regulation by utilising the approaches of Soerjono Soekanto's 'Effectiveness of Law Theory'. The research adopts a socio-legal research method by using in-depth interviews as a means of data collection. It finds that the Batam Human Trafficking Regulation is merely a piece of 'copy and paste' legislation, borrowing from the West Java Province Regional Regulation on Human Trafficking. It is suggested that the Batam Human Trafficking Regulation should be revised and preceded by in- depth research and a survey of public opinion to involve all relevant stakeholders in Batam City.
Keywords
Human Trafficking,
Batam Regulation,
Transit Area
Publication Date
October, 2016
Citation Information
Elza Syarief. "Examining the "Copy & Paste" Regulation of Batam City to Combat Human Trafficking in the Transit Area"
International Journal of Law and Interdisciplinary Legal Studies
Vol. 2 Iss. 1 (2016) p. 4 - 15 ISSN: 2397-6942
Available at: http://works.bepress.com/elza-syarief/5/