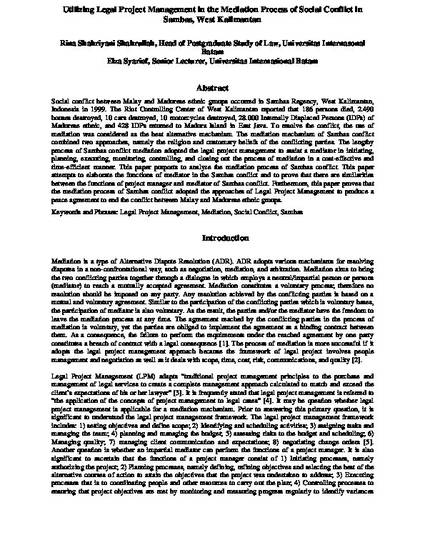 Article
Utilizing Legal Project Management in the Mediation Process of Social Conflict in Sambas, West Kalimantan
Proceedings of the 8th International Conference on Project Management (ProMAC) (2014)
Abstract
Social conflict between Malay and Madurese ethnic groups occurred in Sambas Regency, West Kalimantan, Indonesia in 1999. The Riot Controlling Center of West Kalimantan reported that 186 persons died, 2.490 houses destroyed, 10 cars destroyed, 10 motorcycles destroyed, 28.000 Internally Displaced Persons (IDPs) of Madurese ethnic, and 428 IDPs returned to Madura Island in East Java. To resolve the conflict, the use of mediation was considered as the best alternative mechanism. The mediation mechanism of Sambas conflict combined two approaches, namely the religion and customary beliefs of the conflicting parties. The lengthy process of Sambas conflict mediation adopted the legal project management to assist a mediator in initiating, planning, executing, monitoring, controlling, and closing out the process of mediation in a cost-effective and time-efficient manner. This paper purports to analyze the mediation process of Sambas conflict. This paper attempts to elaborate the functions of mediator in the Sambas conflict and to prove that there are similarities between the functions of project manager and mediator of Sambas conflict. Furthermore, this paper proves that the mediation process of Sambas conflict adopted the approaches of Legal Project Management to produce a peace agreement to end the conflict between Malay and Madurese ethnic groups.
Keywords
Legal Project Management,
Mediation,
Social Conflict,
Sambas
Publication Date
December, 2014
Citation Information
Elza Syarief. "Utilizing Legal Project Management in the Mediation Process of Social Conflict in Sambas, West Kalimantan"
Proceedings of the 8th International Conference on Project Management (ProMAC)
(2014) ISSN: 978-4-902378-36-8
Available at: http://works.bepress.com/elza-syarief/13/