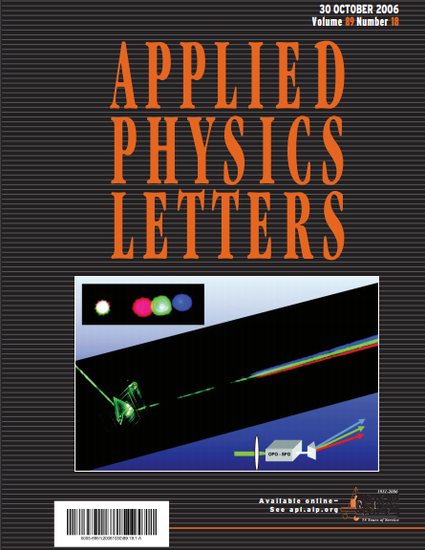 Article
Photonic Band Tuning in Two-Dimensional Photonic Crystal Slab Waveguides by Atomic Layer Deposition
Applied Physics Letters (2006)
Abstract
The photonic bands of two-dimensional (2D) triangular lattice photonic crystal Si slab waveguides were statically tuned using low temperature atomic layer deposition (ALD) of TiO2. Angular dependent reflectance measurements of bare and coated devices were well fitted by three-dimensional finite-difference time-domain calculations. The technique not only allows the physics of photonic band effects in 2D photonic crystals to be systematically studied but also demonstrates large static tuning and precise fine-scale control over band frequency and dispersion, with a frequency tuning range of 12% and precision of 0.005% per ALD cycle. Band tuning to achieve zero group velocity is demonstrated.
Publication Date
October 30, 2006
Citation Information
Elton Graugnard, D. P. Gaillot, S. N. Dunham, C. W. Neff, et al.. "Photonic Band Tuning in Two-Dimensional Photonic Crystal Slab Waveguides by Atomic Layer Deposition"
Applied Physics Letters
Vol. 89 Iss. 18 (2006)
Available at: http://works.bepress.com/elton_graugnard/18/