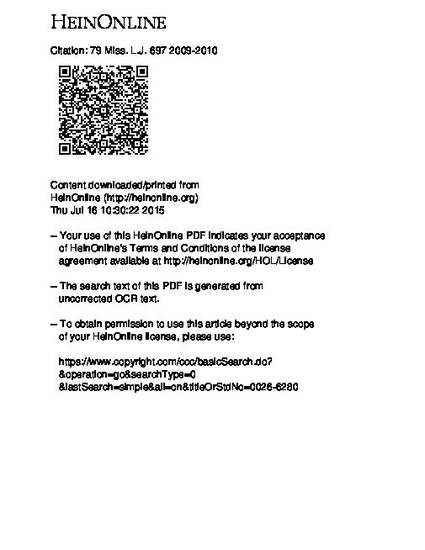 Article
It's Not a Small World After All: Regulating Obesity Globally
Miss. L.J.
Publication Date
1-1-2010
Abstract
The rate of obesity and overweight among the world population has increased dramatically over the past several years in both adults and children. Childhood obesity is a critical health care concern. There have been well-publicized efforts to regulate children's obesity both in the U.S. and abroad through such measures as mandated nutritional school lunch programs. This article focuses, however, on a less examined area of regulation—the recent worldwide efforts to curb obesity among adults. The regulations discussed in this article include measures proposed or adopted by either administrative agencies or legislative bodies, whether on a local or national level. The author explains that legislation aimed at educating the public, through information or wellness programs, seems to be the least costly and seemingly most effective way to curb obesity.
Citation Information
Eloisa Rodriguez-Dod. "It's Not a Small World After All: Regulating Obesity Globally"
Miss. L.J.
Vol. 79 (2010) p. 697
Available at: http://works.bepress.com/eloisa_rodriguez-dod/6/