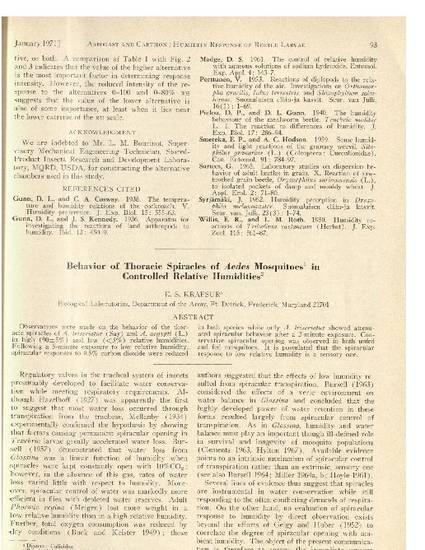 Article
Behavior of Thoracic Spiracles of Aedes Mosquitoes in Controlled Relative Humidities
Annals of the Entomological Society of America (1971)
Abstract
Observations were made on the behavior of the thoracic spiracles of 
A. triseriatus
 (Say) and 
A. aegypti
(L.) in high (90±5%) and low (<5%) relative humidities. Following a 5-minute exposure to low relative humidity, spiracular responses to 0.5% carbon dioxide were reduced in both species while only 
A. triseriatus
 showed attenuated spiracular behavior after a 2-minute exposure. Conservative spiracular opening was observed in both unfed and fed mosquitoes. It is postulated that the spiracular response to low relative humidity is a sensory one.
Publication Date
January, 1971
Citation Information
E. S. Krafsur. "Behavior of Thoracic Spiracles of Aedes Mosquitoes in Controlled Relative Humidities"
Annals of the Entomological Society of America
Vol. 64 Iss. 1 (1971) p. 93 - 97
Available at: http://works.bepress.com/elliot-krafsur/4/