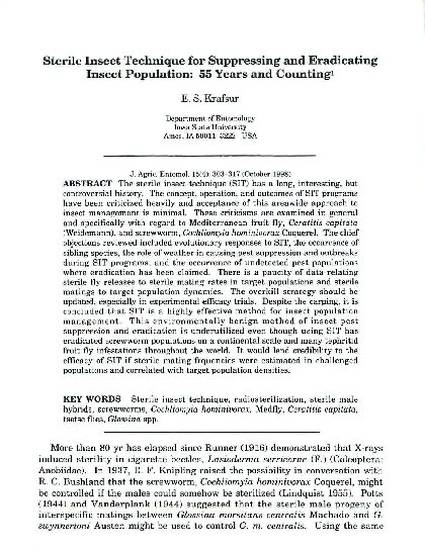 Article
Sterile Insect Technique for Suppressing and Eradicating Insect Population: 55 Years and Counting
Journal of Agricultural Entomology
Publication Version
Published Version
Publication Date
10-1-1998
Abstract
The sterile insect technique (SIT) has a long, interesting, but. controversial history. The concept, operation, and outcomes of SIT programs have been criticized heavily and acceptance of this areawide approach to insect management is minimal. These criticisms are examined in general and specifically with regard to Mediterranean fruit fly, Ceratitis capitala (Weidemann), and screwworm, Cochliomyia hominivomx CoquereL The chief objections reviewed included evolutionary responses to SIT, the occurrence of sibling species, the role of weather in causing pest suppression and outbreaks during SIT programs, and the occurrence of undetected pest populations where eradication has been claimed. There is a paucity of data relating sterile fly releases to sterile mating rates in target populations and sterile roatings to target population dynamics. The overkill strategy should be updated, especially in experimental efficacy trials. Despite the carping, it is concluded that SIT is a highly effective method for insect population management. This environmentally benign method of insect pest suppression and eradication is underutilized even though using SIT has eradicated screwworm populations on a continental scale and many tephritid fruit fly infestations throughout the world. It would lend credibility to the efficacy of SIT if sterile mating frquencies were estimated in challenged populations and correlated with target population densities.
Copyright Owner
South Carolina Entomological Society
File Format
application/pdf
Citation Information
E. S. Krafsur. "Sterile Insect Technique for Suppressing and Eradicating Insect Population: 55 Years and Counting"
Journal of Agricultural Entomology
Vol. 15 Iss. 4 (1998) p. 303 - 317
Available at: http://works.bepress.com/elliot-krafsur/22/