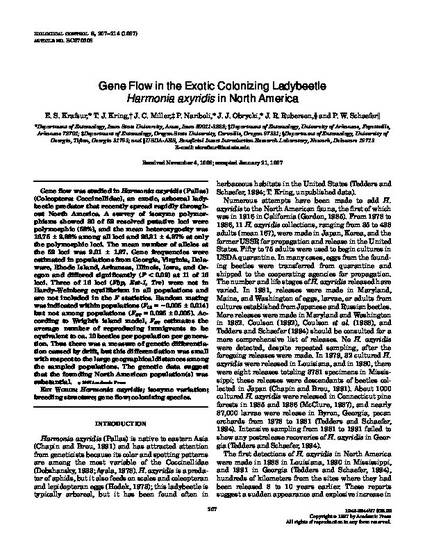 Article
Gene Flow in the Exotic Colonizing LadybeetleHarmonia axyridisin North America
Biological Control
Publication Version
Published Version
Publication Date
3-1-1997
DOI
10.1006/bcon.1997.0508
Abstract
Gene flow was studied inHarmonia axyridis(Pallas) (Coleoptera: Coccinellidae), an exotic, arboreal ladybeetle predator that recently spread rapidly throughout North America. A survey of isozyme polymorphisms showed 30 of 52 resolved putative loci were polymorphic (58%), and the mean heterozygosity was 16.75 ± 2.98% among all loci and 26.31 ± 4.37% at only the polymorphic loci. The mean number of alleles at the 52 loci was 2.01 ± 1.97. Gene frequencies were estimated in populations from Georgia, Virginia, Delaware, Rhode Island, Arkansas, Illinois, Iowa, and Oregon and differed significantly (P < 0.02) at 11 of 16 loci. Three of 16 loci (Fbp, Est-1, Tre) were not in Hardy–Weinberg equilibrium in all populations and are not included in theFstatistics. Random mating was indicated within populations (FIS = −0.005 ± 0.014) but not among populations (FST = 0.025 ± 0.005). According to Wright's island model,FSTestimates the average number of reproducing immigrants to be equivalent to ca. 10 beetles per population per generation. Thus there was a measure of genetic differentiation caused by drift, but this differentiation was small with respect to the large geographical distances among the sampled populations. The genetic data suggest that the founding North American population(s) was substanti
Rights
Works produced by employees of the U.S. Government as part of their official duties are not copyrighted within the U.S. The content of this document is not copyrighted.
File Format
application/pdf
Citation Information
E. S. Krafsur, T. J. Kring, J. C. Miller, P. Nariboli, et al.. "Gene Flow in the Exotic Colonizing LadybeetleHarmonia axyridisin North America"
Biological Control
Vol. 8 Iss. 3 (1997) p. 207 - 214
Available at: http://works.bepress.com/elliot-krafsur/16/