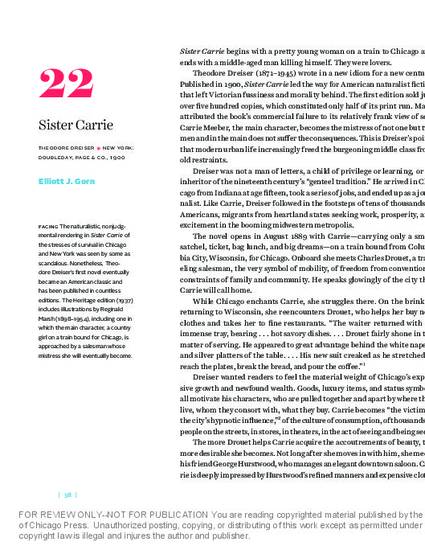 Contribution to Book
Sister Carrie---Theodore Dreiser, New York: Doubleday, Page & Co., 1900
Chicago by the Book: 101 Publications that Shaped the City and its Image
Document Type
Book Chapter
Publication Date
1-1-2018
Publisher Name
The University of Chicago Press Books
Publisher Location
Chicago, IL
Abstract
Facing the naturalistic, nonjudgmental rendering in Sister Carrie of the stresses of survival in Chicago and New York was seen by some as scandalous. Nonetheless, Theodore Dreiser's first novel eventually became an American classic and has been published in countless editions. The Heritage edition (1937) includes illustrations by Reginald Marsh (1898– 1954), including one in which the main character, a country girl on a train bound for Chicago, is approached by a salesman whose mistress she will eventually become.
Creative Commons License
Creative Commons Attribution-Noncommercial-No Derivative Works 3.0
Copyright Statement
© The University of Chicago 2018
Citation Information
Elliot Gorn. "Sister Carrie---Theodore Dreiser, New York: Doubleday, Page & Co., 1900"
Chicago by the Book: 101 Publications that Shaped the City and its Image
(2018)
Available at: http://works.bepress.com/elliot-gorn/6/