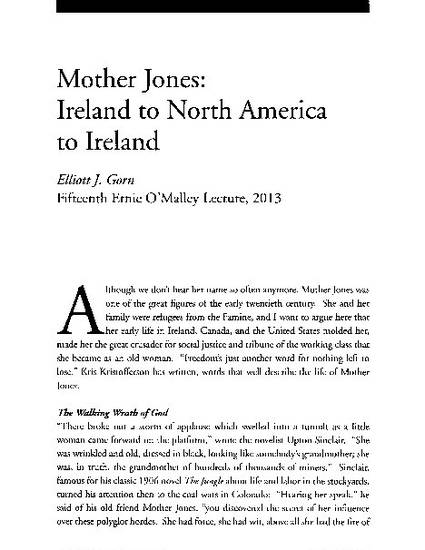 Article
Mother Jones: Ireland to North America to Ireland
American Journal of Irish Studies
Publication Date
1-1-2014
Publisher Name
Glucksman Ireland House
Publisher Location
New York, NY
Abstract
Although we don't hear her name so often anymore, Mother Jones was one of the great figures of the early twentieth century. She and her family were refugees from the Famine, and I want to argue here that her early life in Ireland, Canada, and the United States molded her, made her the great crusader for social justice and tribune of the working class that she became as an old woman. "Freedoms just another word for nothing left to lose," Kris Kristofferson has written, words that well describe the life of Mother Jones.
Creative Commons License
Creative Commons Attribution-Noncommercial-No Derivative Works 3.0
Citation Information
Elliot Gorn. "Mother Jones: Ireland to North America to Ireland"
American Journal of Irish Studies
Vol. 11 (2014)
Available at: http://works.bepress.com/elliot-gorn/2/