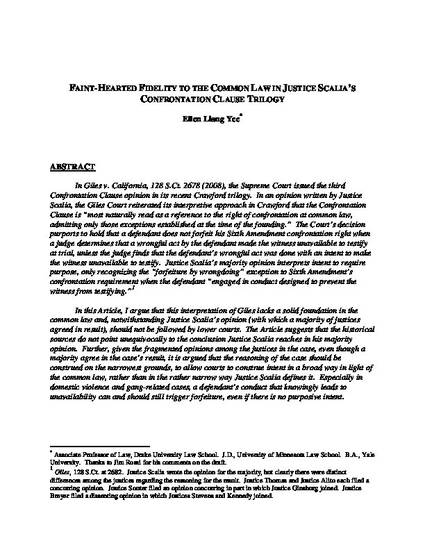 Unpublished Paper
Faint-Hearted Fidelity to the Common Law in Justice Scalia's Confrontation Clause Trilogy
ExpressO (2010)
Abstract
FAINT-HEARTED FIDELITY TO THE COMMON LAW IN JUSTICE SCALIA'S CONFRONTATION CLAUSE TRILOGY Ellen Liang Yee ABSTRACT In Giles v. California, 128 S.Ct. 2678 (2008), the Supreme Court issued the third Confrontation Clause opinion in its recent Crawford trilogy. In an opinion written by Justice Scalia, the Giles Court reiterated its interpretive approach in Crawford that the Confrontation Clause is "most naturally read as a reference to the right of confrontation at common law, admitting only those exceptions established at the time of the founding." The Court's decision purports to hold that a defendant does not forfeit his Sixth Amendment confrontation right when a judge determines that a wrongful act by the defendant made the witness unavailable to testify at trial, unless the judge finds that the defendant's wrongful act was done with an intent to make the witness unavailable to testify. Justice Scalia's majority opinion interprets intent to require purpose, only recognizing the "forfeiture by wrongdoing" exception to Sixth Amendment's confrontation requirement when the defendant "engaged in conduct designed to prevent the witness from testifying." In this Article, I argue that this interpretation of Giles lacks a solid foundation in the common law and, notwithstanding Justice Scalia's opinion (with which a majority of justices agreed in result), should not be followed by lower courts. The Article suggests that the historical sources do not point unequivocally to the conclusion Justice Scalia reaches in his majority opinion. Further, given the fragmented opinions among the justices in the case, even though a majority agree in the case's result, it is argued that the reasoning of the case should be construed on the narrowest grounds, to allow courts to construe intent in a broad way in light of the common law, rather than in the rather narrow way Justice Scalia defines it. Especially in domestic violence and gang-related cases, a defendant's conduct that knowingly leads to unavailability can and should still trigger forfeiture, even if there is no purposive intent.
Keywords
Confrontation Clause,
Sixth Amendment,
Forfeiture,
Hearsay,
Oringinalism,
Scalia
Publication Date
May 11, 2010
Citation Information
Ellen Yee. "Faint-Hearted Fidelity to the Common Law in Justice Scalia's Confrontation Clause Trilogy"
ExpressO
(2010)
Available at: http://works.bepress.com/ellen_yee/2/