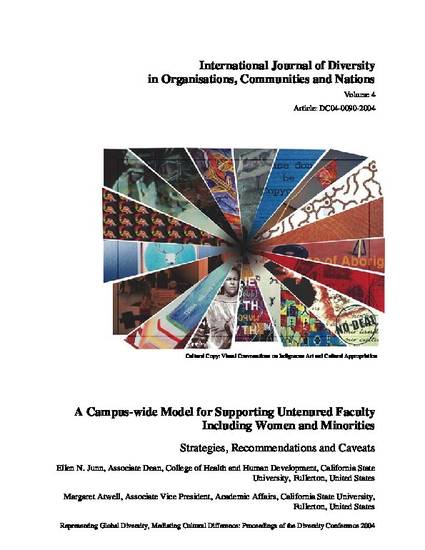 Article
A campus-wide model for supporting untenured faculty including women and minorities: Strategies, recommendations and caveats
International Journal of Diversity in Organisations, Communities and Nations (2006)
Abstract
This paper presents a comprehensive campus-wide strategic model for more effectively supporting tenure-track faculty with a special concern for assisting women and minority faculty. A description of the process and the outcomes includes establishment of a clear, high-level administrative initiative; formation of a campus-wide committee of highly respected faculty and administrators; compilation and discussion of current research and writings on the issue of recruiting and retaining women and minority faculty; collection of campus and national comparison data; creation, administration, and analysis of a survey of untenured faculty; compilation and dissemination of the committee's final report and specific recommendations; and prioritized implementation of the committee's comprehensive recommendations with timelines, identification of relevant office responsibilities and estimated costs. The paper concludes with a discussion of the multiple positive outcomes and caveats.
Keywords
faculty,
women,
minorities
Citation Information
Ellen N Junn and M. Atwell. "A campus-wide model for supporting untenured faculty including women and minorities: Strategies, recommendations and caveats"
International Journal of Diversity in Organisations, Communities and Nations
Vol. 4 (2006)
Available at: http://works.bepress.com/ellen_junn/4/