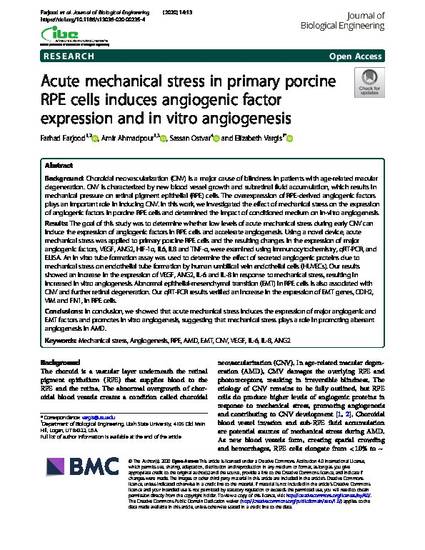 Article
Acute Mechanical Stress in Primary Porcine RPE Cells Induces Angiogenic Factor Expression and In Vitro Angiogenesis
Journal of Biological Engineering
Publication Date
4-25-2020
Award Number
NIH 1R15EY028732-01A1
Publisher
BioMed Central Ltd.
Creative Commons License
Creative Commons Attribution 4.0
Abstract
Background
Choroidal neovascularization (CNV) is a major cause of blindness in patients with age-related macular degeneration. CNV is characterized by new blood vessel growth and subretinal fluid accumulation, which results in mechanical pressure on retinal pigment epithelial (RPE) cells. The overexpression of RPE-derived angiogenic factors plays an important role in inducing CNV. In this work, we investigated the effect of mechanical stress on the expression of angiogenic factors in porcine RPE cells and determined the impact of conditioned medium on in-vitro angiogenesis. Results
The goal of this study was to determine whether low levels of acute mechanical stress during early CNV can induce the expression of angiogenic factors in RPE cells and accelerate angiogenesis. Using a novel device, acute mechanical stress was applied to primary porcine RPE cells and the resulting changes in the expression of major angiogenic factors, VEGF, ANG2, HIF-1α, IL6, IL8 and TNF-α, were examined using immunocytochemistry, qRT-PCR, and ELISA. An in vitro tube formation assay was used to determine the effect of secreted angiogenic proteins due to mechanical stress on endothelial tube formation by human umbilical vein endothelial cells (HUVECs). Our results showed an increase in the expression of VEGF, ANG2, IL-6 and IL-8 in response to mechanical stress, resulting in increased in vitro angiogenesis. Abnormal epithelial-mesenchymal transition (EMT) in RPE cells is also associated with CNV and further retinal degeneration. Our qRT-PCR results verified an increase in the expression of EMT genes, CDH2, VIM and FN1, in RPE cells. Conclusions
In conclusion, we showed that acute mechanical stress induces the expression of major angiogenic and EMT factors and promotes in vitro angiogenesis, suggesting that mechanical stress plays a role in promoting aberrant angiogenesis in AMD.
Citation Information
Farjood, F., Ahmadpour, A., Ostvar, S. et al. Acute mechanical stress in primary porcine RPE cells induces angiogenic factor expression and in vitro angiogenesis. J Biol Eng 14, 13 (2020). https://doi.org/10.1186/s13036-020-00235-4