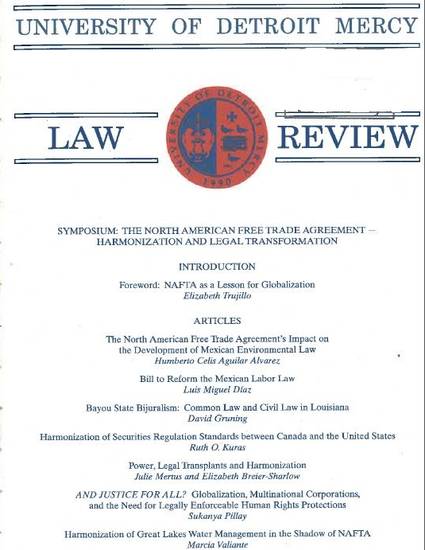 Article
Foreword: NAFTA as a Lesson for Globalization
University of Detroit Mercy Law Review
Abstract
Since its enactment, NAFTA has impacted international business among its members and it has awakened concerns of the environmental and labor challenges that the participating countries face as they move toward economic integration. Among the many challenges, coping with the economic, legal, and cultural differences that exist among the partners has been difficult. The nations must continue to work together to harmonize their laws in such a way that allows for easier integration without impeding their sovereign power to enact laws that address local needs. At the conference entitled "NAFTA at Ten: Harmonization and Legal Transformation," held on June 14-15, 2003 at the University of Windsor, Ontario, the University of Detroit Mercy School of Law and the University of Windsor Faculty of Law brought together esteemed international legal scholars from Canada, Mexico, and the United States to share their extensive expertise and knowledge and discuss these important issues.
Citation Information
Elizabeth Trujillo. "Foreword: NAFTA as a Lesson for Globalization"
University of Detroit Mercy Law Review
Vol. 81 (2003) p. [xix] - [xxviii]
Available at: http://works.bepress.com/elizabeth_trujillo/10/