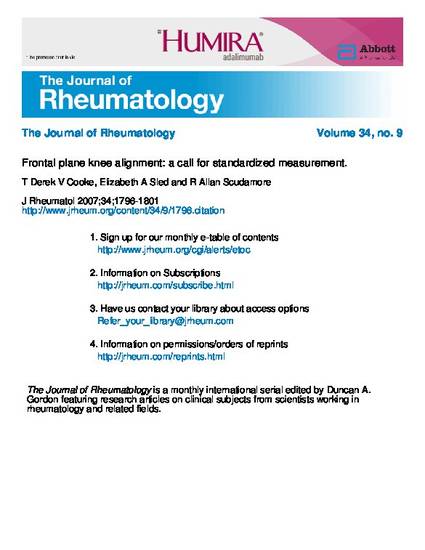 Article
Frontal Plane Knee Alignment: A Call for Standardized Measurement
Journal of Rheumatology
Publication Date
9-1-2007
Abstract
Evaluations of knee alignment are useful in the diagnosis of arthritic conditions affecting the knee joint, serving also as a guide for conservative management and surgical planning. They are also fundamental to various aspects of musculo-skeletal research. Recently, there has been great interest in frontal plane alignment measures related to the pathogenesis of knee osteoarthritis (OA). Several approaches have been proposed over the years to describe and measure alignment, but the differences between them have made it difficult to compare or correlate the results of independent studies. Toward a standard approach to the measurement and reporting of alignment data that may be equally applicable to clinicians and researchers, we discuss a system of measurements based on geometric analysis of the femur, tibia, and knee joint surfaces. We also discuss a standardized methodology for measurement and computation of these parameters.
Citation Information
T. Derek V. Cooke, Elizabeth A. Sled and R. Allan Scudamore. "Frontal Plane Knee Alignment: A Call for Standardized Measurement"
Journal of Rheumatology
Vol. 34 Iss. 9 (2007) p. 1796 - 1801
Available at: http://works.bepress.com/elizabeth_sled/8/