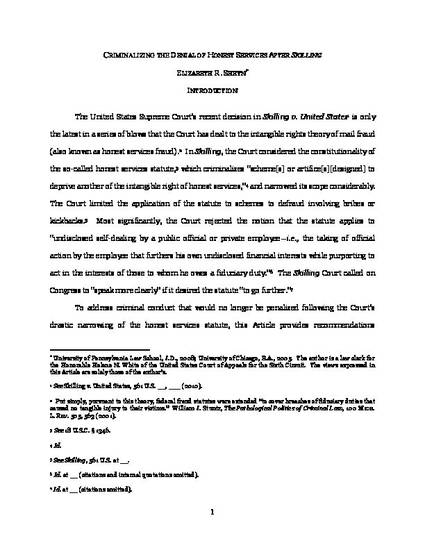 Unpublished Paper
Criminalizing the Denial of Honest Services After Skilling
ExpressO (2011)
Abstract
The United States Supreme Court's recent decision in Skilling v. United States is only the latest in a series of blows that the Court has dealt to the intangible rights theory of mail fraud (also known as honest services fraud). In Skilling, the Court considered the constitutionality of the so-called honest services statute, which criminalizes "scheme[s] or artifice[s][designed] to deprive another of the intangible right of honest services," and narrowed its scope considerably. The Court limited the application of the statute to schemes to defraud involving bribes or kickbacks. Most significantly, the Court rejected the notion that the statute applies to "undisclosed self-dealing by a public official or private employee—i.e., the taking of official action by the employee that furthers his own undisclosed financial interests while purporting to act in the interests of those to whom he owes a fiduciary duty." The Skilling Court called on Congress to "speak more clearly" if it desired the statute "to go further." To address criminal conduct that would no longer be penalized following the Court's drastic narrowing of the honest services statute, this Article provides recommendations concerning what the new honest services statute, which Congress would enact to replace the current, eviscerated statute, should look like. The considerations advanced in the Article aim to ensure that the new statute avoids potential federalism concerns, as well as the charges of vagueness that plagued the previous iterations of the honest services statute. Additionally, they provide a means of punishing truly criminal conduct that would otherwise fall outside the scope of the honest services statute (as it currently stands), the mail and wire fraud statutes, and 18 U.S.C. § 666.
Keywords
Skilling,
Honest Services,
Fraud,
Intangible Rights
Publication Date
January 2, 2011
Citation Information
Elizabeth R Sheyn. "Criminalizing the Denial of Honest Services After Skilling"
ExpressO
(2011)
Available at: http://works.bepress.com/elizabeth_sheyn/2/