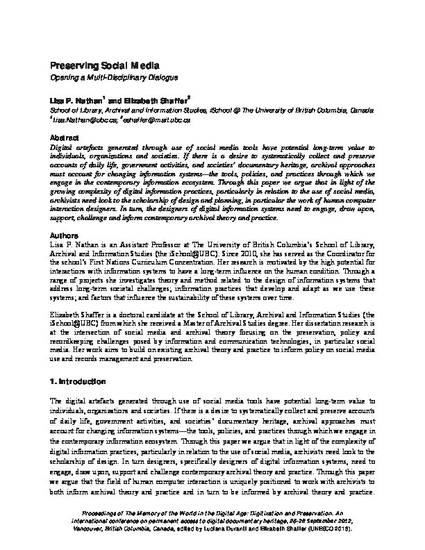 Presentation
Preserving Social Media: Opening a Multi-Disciplinary Dialogue
Memory of the World in the Digital Age: Digitization and Preservation (2012)
Abstract
Digital artefacts generated through use of social media tools= have potential long-term value to individuals, organizations and societies. If there is a desire to systematically collect and preserve accounts of daily life, government activities, and societies' documentary heritage, archival approaches must account for changing information systems—the tools, policies, and practices through which we engage in the contemporary information ecosystem. Through this paper we argue that in light of the growing complexity of digital information practices, particularly in relation to the use of social media, archivists need look to the scholarship of design and planning, in particular the work of human computer interaction designers. In turn, the designers of digital information systems need to engage, draw upon, support, challenge and inform contemporary archival theory and practice.
Publication Date
September, 2012
Citation Information
Lisa P. Nathan and Elizabeth M. Shaffer. "Preserving Social Media: Opening a Multi-Disciplinary Dialogue"
Memory of the World in the Digital Age: Digitization and Preservation
(2012)
Available at: http://works.bepress.com/elizabeth_shaffer/12/