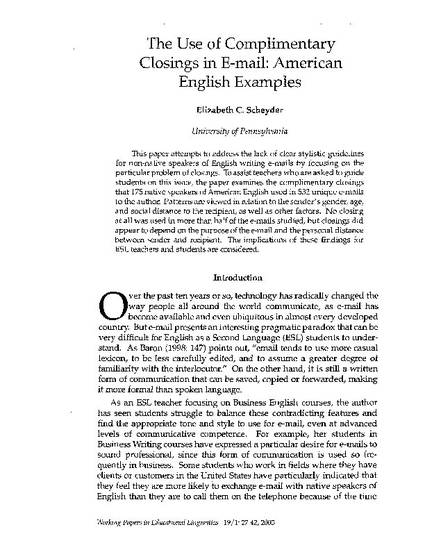 Article
The Use of Complimentary Closings in E-mail: American English Examples
Working Papers in Educational Linguistics (2003)
Abstract
This paper attempts to address the lack of clear stylistic guidelines for non-native speakers of English writing e-mails by focusing on the particular problem of closings. To assist teachers who are asked to guide students on this issue, the paper examines the complimentary closings that 175 native speakers of American English used in 532 unique e-mails to the author. Patterns are viewed in relation to the sender's gender, age, and social distance to the recipient, as well as other factors. No closing at all was used in more than half of the e-mails studied, but closings did appear to depend on the purpose of the e-mail and the personal distance between sender and recipient. The implications of these findings for ESL teachers and students are considered.
Publication Date
Fall 2003
Citation Information
Elizabeth C Scheyder. "The Use of Complimentary Closings in E-mail: American English Examples"
Working Papers in Educational Linguistics
Vol. 19 Iss. 1 (2003)
Available at: http://works.bepress.com/elizabeth_scheyder/1/