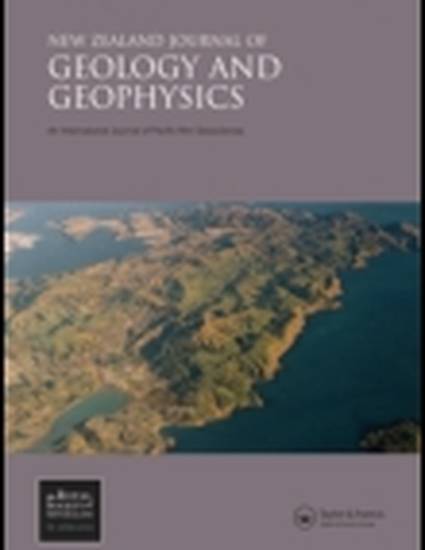 Article
Active Faults, Paleoseismology and Historical Fault Rupture in the Northern Wairarapa, North Island, New Zealand
New Zealand Journal of Geology and Geophysics (2004)
Abstract
Active faulting in the upper plate of the Hikurangi subduction zone, North Island, New Zealand, represents a significant seismic hazard that is not yet well understood. In northern Wairarapa, the geometry and kinematics of active faults, and the Quaternary and historical surface‐rupture record, have not previously been studied in detail. We present the results of mapping and paleoseismicity studies on faults in the northern Wairarapa region to document the characteristics of active faults and the timing of earthquakes. We focus on evidence for surface rupture in the 1855 Wairarapa (MW 8.2) and 1934 Pahiatua (MW7.4) earthquakes, two of New Zealand's largest historical earthquakes.
The Dreyers Rock, Alfredton, Saunders Road, Waitawhiti, and Waipukaka Faults form a northeast‐trending, east‐stepping array of faults. Detailed mapping of offset geomorphic features shows the rupture lengths vary from c. 7 to 20 km and single‐event displacements range from 3 to 7 m, suggesting the faults are capable of generating M >7 earthquakes. Trenching results show that two earthquakes have occurred on the Alfredton Fault since c. 2900 cal. BP. The most recent event probably occurred during the 1855 Wairarapa earthquake as slip propagated northward from the Wairarapa Fault and across a 6 km wide step. Waipukaka Fault trenches show that at least three surface‐rupturing earthquakes have occurred since 8290–7880 cal. BP. Analysis of stratigraphic and historical evidence suggests the most recent rupture occurred during the 1934 Pahiatua earthquake.
Estimates of slip rates provided by these data suggest that a larger component of strike slip than previously suspected is occurring within the upper plate and that the faults accommodate a significant proportion of the dextral component of oblique subduction. Assessment of seismic hazard is difficult because the known fault scarp lengths appear too short to have accommodated the estimated single‐event displacements. Faults in the region are highly segmented, disconnected, and probably structurally immature, which implies that apparent geometric discontinuities at the surface may not be significant barriers to rupture propagation at depth and that the surface rupture record significantly under‐represents the seismic slip on faults in the region.
Keywords
Active faulting,
paleoseismology,
Hikurangi margin,
oblique subduction,
seismic hazard,
Waipukaka Fault,
new structural names
Citation Information
Elizabeth R. Schermer, R. Van Dissen, K. R. Berryman, H. M. Kelsey, et al.. "Active Faults, Paleoseismology and Historical Fault Rupture in the Northern Wairarapa, North Island, New Zealand"
New Zealand Journal of Geology and Geophysics
Vol. 47 Iss. 1 (2004)
Available at: http://works.bepress.com/elizabeth_schermer/12/