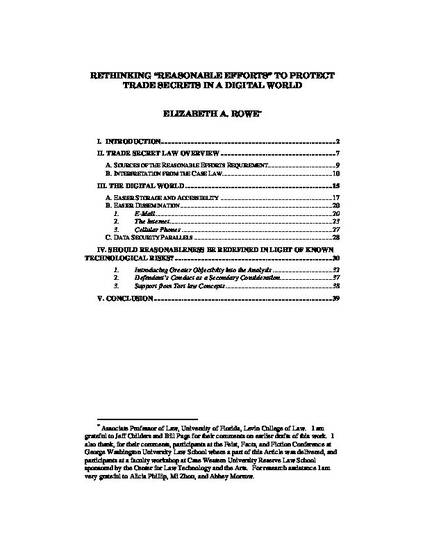 Unpublished Paper
Rethinking "Reasonable Efforts" to Protect Trade Secrets in a Digital World
ExpressO (2008)
Abstract
The very technological tools in use today that increase the efficiency with which companies do business create challenges for trade secret protection. They make trade secrets easier to store, easier to access, easier to disseminate, and more portable, thus increasing the risks that trade secrets will be destroyed. While secrecy is the sine qua non of trade secret protection, it can be difficult to accomplish. There is a tension between the need to keep information secret and modern technological methods that allow the information to be easily accessed, reproduced, and disseminated. In trade secret misappropriation cases, courts evaluate the sufficiency of measures to protect the secret through the "reasonable efforts" requirement. The trade-secret owner must show that it took efforts reasonable under the circumstances to protect the secret. This Article, for the first time, explores a question previously unaddressed in the literature: should the greater risks presented to trade secrets in a digital world change the way that courts evaluate reasonable efforts when a trade secret is misappropriated using some form of computer technology? Should reasonableness be pegged to a "should have known" standard such that courts impute an objective expectation that higher safety precautions will be utilized because of the risks that in today's digital world trade secrets are easier to access and disseminate? Because the reasonable efforts requirement necessitates consideration of what is reasonable under the circumstances, I argue that the changing circumstances that have come about as a result of new technology require a reexamination of what security measures are reasonable. The Article examines some of the technological tools, such as USB thumb drives, lap tops, and e-mail, which pose threats to trade secrets. It also places the challenge of protecting trade secrets within the larger context of data security and considers insights from that parallel struggle. In light of changed circumstances arising from the digital world, it urges courts to give special consideration to the known technological risks that may or may not have been considered by the trade secret owner, rather than continuing to focus on traditional facilities-based measures. The Article proposes modified guidelines for the reasonable efforts analysis, and concludes that in order to be reasonable, trade secret protection measures require a more conscious, risk assessment approach that better anticipates and ultimately stems the inappropriate dissemination or disclosure of the secrets.
Keywords
trade secrets,
technology,
reasonable efforts,
digital,
e-mail,
internet,
flash drives,
misappropriation
Publication Date
September 5, 2008
Citation Information
Elizabeth A Rowe. "Rethinking "Reasonable Efforts" to Protect Trade Secrets in a Digital World"
ExpressO
(2008)
Available at: http://works.bepress.com/elizabeth_rowe/2/