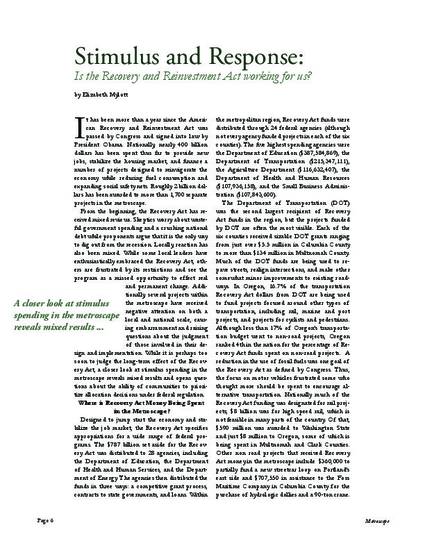 Article
Stimulus and Response: Is the Recovery and Reinvestment Act Working for Us?
Metroscape
Publication Date
7-1-2010
Subjects
Oregon -- Economic conditions -- 21st century,
American Recovery and Reinvestment Act of 2009 -- Evaluation,
Economic stabilization -- Oregon -- Auditing,
Federal aid -- Oregon,
Global Financial Crisis,
2008-2009
Abstract
From the beginning, the Recovery Act has received mixed reviews. Skeptics worry about wasteful government spending and a crushing national debt while proponents argue that it is the only way to dig out from the recession. Locally, reaction has also been mixed. While some local leaders have enthusiastically embraced the Recovery Act, others are frustrated by its restrictions and see the program as a missed opportunity to effect real and permanent change. Additionally, several projects within the metroscape have received negative attention on both a local and national scale, causing embarrassment and raising questions about the judgment of those involved in their design and implementation. While it is perhaps too soon to judge the long-term effect of the Recovery Act, a closer look at stimulus spending in the metroscape reveals mixed results and opens questions about the ability of communities to prioritize allocation decisions under federal regulation.
Persistent Identifier
http://archives.pdx.edu/ds/psu/6875
Citation Information
Mylott, Elizabeth, "Stimulus and response : Is the Recovery and Reinvestment Act working for us?" (2010 Metroscape, Institute for Portland Metropolitan Studies, Portland State University)