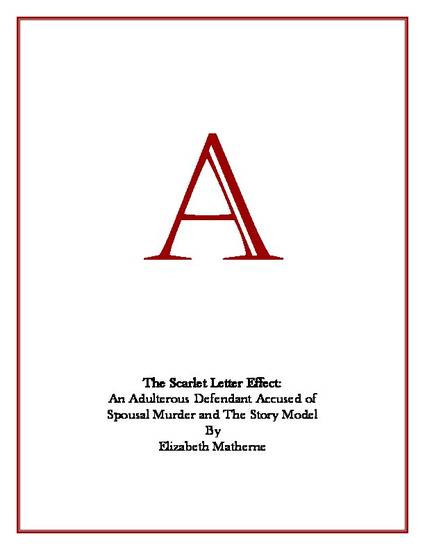 Unpublished Paper
The Scarlet Letter Effect: The Adulterous Defendant on Trial for Spousal Murder
ExpressO (2007)
Abstract
"At the vary least, they should have put the brand of hot iron on Hester Prynne's forehead."
Hester Prynne and The Scarlet Letter conjure images of an outcast infinitely branded and burdened by infidelity. As the story model becomes increasingly accepted as the most accurate theory of the juror decision making process, some attorneys are carefully crafting their message to fit such iconic images. Others are being left behind with dire consequences to their clients. In my article, I highlight how one segment of criminal defendants, the Adulterous Defendant on Trial for Spousal Murder, is especially vulnerable to the abuse of the story model resulting in these defendants losing access to one of the most valuable pillars of the American Justice system: The fair trial. I propose that once evidence of a defendant's infidelity is introduced to the jury his/her "story" will never be palatable or believable to a jury because an adulterer is inherently dishonest, deceitful and immoral. I call this the Scarlet Letter Effect. In a world where names like Scott Peterson and O.J. Simpson are common place in the American Juror's toolbox of prejudices, it is especially important for the legal arena to take notice that the manipulation of the story model can be detrimental to the integrity of the American Jury System and result in innocent people being convicted of unthinkable crimes.
Keywords
story model,
criminal law,
adultery,
trial advocacy,
Publication Date
August, 2007
Citation Information
Elizabeth H Matherne. "The Scarlet Letter Effect: The Adulterous Defendant on Trial for Spousal Murder"
ExpressO
(2007)
Available at: http://works.bepress.com/elizabeth_matherne/1/