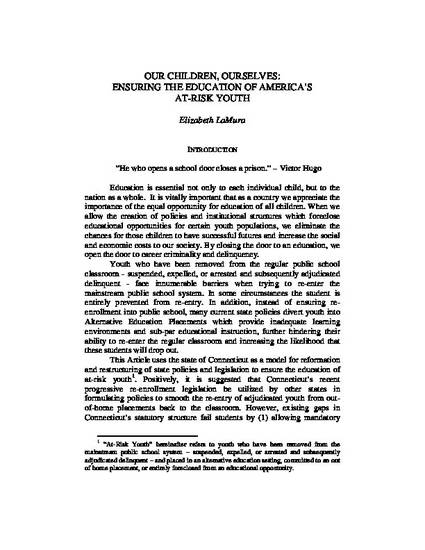 Unpublished Paper
Our Children, Ourselves: Ensuring the Education of America's At-Risk Youth
ExpressO (2012)
Abstract
This Article suggests using Connecticut as a model for (1) effective re-enrollment legislation and (2) framing litigation to challenge inequities in the education of at-risk youth. Children who are removed from the mainstream public school system – suspended, expelled or arrested and subsequently adjudicated delinquent – face innumerable obstacles when attempting to reintegrate into the public school system. In some circumstances, these youth are completely foreclosed from educational opportunities. In addition, instead of ensuring re-enrollment into public school, these youth are often diverted into Alternative Education Placements which provide inadequate learning environments and sub-par educational instruction, further hindering their ability to re-enter the regular classroom. The school to prison pipeline, prohibitive re-entry policies and statutory structures, and multi-faceted socio-economic and racial issues severely limit at-risk students' chance of future educational success. This Article illustrates how these current policies and frameworks can be restructured to allow for the successful education of this at-risk population.
Citation Information
Elizabeth LaMura. "Our Children, Ourselves: Ensuring the Education of America's At-Risk Youth"
ExpressO
(2012)
Available at: http://works.bepress.com/elizabeth_lamura/1/