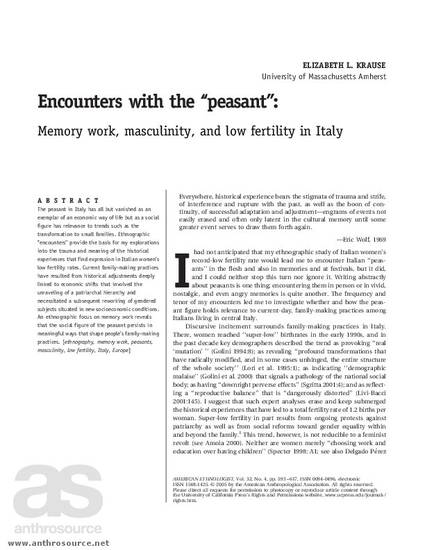 Article
Encounters with 'the Peasant': Memory Work, Masculinity, and Low Fertility in Italy
American Ethnologist (2005)
Abstract
The peasant in Italy has all but vanished as an exemplar of an economic way of life but as a social figure has relevance to trends such as the transformation to small families. Ethnographic "encounters" provide the basis for my explorations into the trauma and meaning of the historical experiences that find expression in Italian women's low fertility rates. Current family-making practices have resulted from historical adjustments deeply linked to economic shifts that involved the unraveling of a patriarchal hierarchy and necessitated a subsequent reworking of gendered subjects situated in new socioeconomic conditions. An ethnographic focus on memory work reveals that the social figure of the peasant persists in meaningful ways that shape people's family-making practices.
Citation Information
Elizabeth L. Krause. "Encounters with 'the Peasant': Memory Work, Masculinity, and Low Fertility in Italy"
American Ethnologist
Vol. 32 Iss. 4 (2005)
Available at: http://works.bepress.com/elizabeth_krause/5/