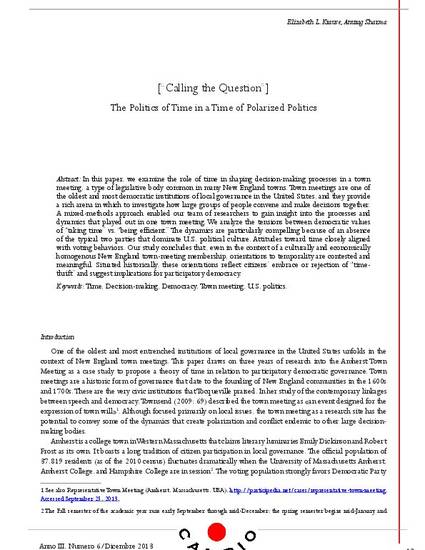 Article
["Calling the Question"] The Politics of Time in a Time of Polarized Politics
Cambio (2013)
Abstract
In this paper, we examine the role of time in shaping decision-making processes in a town meeting, a type of legislative body common in many New England towns. Town meetings are one of the oldest and most democratic institutions of local governance in the United States, and they provide a rich arena in which to investigate how large groups of people convene and make decisions together. A mixed-methods approach enabled our team of researchers to gain insight into the processes and dynamics that played out in one town meeting. We analyze the tensions between democratic values of "taking time" vs. "being efficient." The dynamics are particularly compelling because of an absence of the typical two parties that dominate U.S. political culture. Attitudes toward time closely aligned with voting behaviors. Our study concludes that, even in the context of a culturally and economically homogenous New England town-meeting membership, orientations to temporality are contested and meaningful. Situated historically, these orientations reflect citizens' embrace or rejection of "timethrift" and suggest implications for participatory democracy.
Keywords
Time,
Decision-making,
Democracy,
Town meeting,
U.S. politics
Citation Information
Elizabeth L. Krause and Anurag Sharma. "["Calling the Question"] The Politics of Time in a Time of Polarized Politics"
Cambio
Vol. III Iss. 6 (2013)
Available at: http://works.bepress.com/elizabeth_krause/18/
Creative Commons license
This work is licensed under a Creative Commons CC_BY-NC-ND International License.