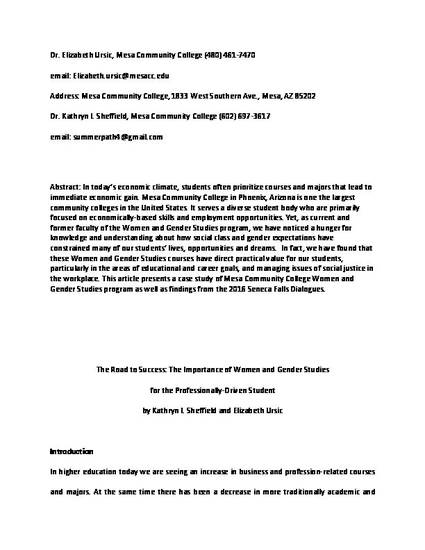 Article
The Road to Success 12-29-16 Final Submitted.docx
Seneca Falls Dialogues Journal (2017)
Abstract
In today's economic climate, students often prioritize courses and majors that lead to immediate economic gain. Mesa Community College in Phoenix, Arizona is one the largest community colleges in the United States. It serves a diverse student body who are primarily focused on economically-based skills and employment opportunities. Yet, as current and former faculty of the Women and Gender Studies program, we have noticed a hunger for knowledge and understanding about how social class and gender expectations have constrained many of our students' lives, opportunities and dreams.  In fact, we have found that these Women and Gender Studies courses have direct practical value for our students, particularly in the areas of educational and career goals, and managing issues of social justice in the workplace. This article presents a case study of Mesa Community College Women and Gender Studies program as well as findings from the 2016 Seneca Falls Dialogues.
Keywords
Women and Gender Studies,
education,
feminism
Citation Information
Elizabeth Ursic. "The Road to Success 12-29-16 Final Submitted.docx"
Seneca Falls Dialogues Journal
(2017)
Available at: http://works.bepress.com/elizabeth-ursic/1/