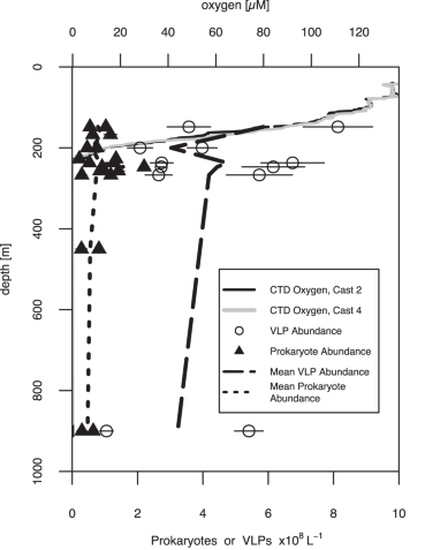 Article
Viral elements and their potential influence on microbial processes along the permanently stratified Cariaco Basin redoxcline
The ISME Journal (2020)
Abstract
L
ittle is known about viruses in oxygen-deficient water columns (ODWCs). In surface ocean waters, viruses are known to act as gene vectors among susceptible hosts. Some of these genes may have metabolic functions and are thus termed auxiliary metabolic genes (AMGs). AMGs introduced to new hosts by viruses can enhance viral replication and/or potentially affect biogeochemical cycles by modulating key microbial pathways. Here we identify 748 viral populations that cluster into 94 genera along a vertical geochemical gradient in the Cariaco Basin, a permanently stratified and euxinic ocean basin. The viral communities in this ODWC appear to be relatively novel as 80 of these viral genera contained no reference viral sequences, likely due to the isolation and unique features of this system. We identify viral elements that encode AMGs implicated in distinctive processes, such as sulfur cycling, acetate fermentation, signal transduction, [Fe–S] formation, and N-glycosylation. These AMG-encoding viruses include two putative Mu-like viruses, and viral-like regions that may constitute degraded prophages that have been modified by transposable elements. Our results provide an insight into the ecological and biogeochemical impact of viruses oxygen-depleted and euxinic habitats.
Publication Date
August 14, 2020
DOI
10.1038/s41396-020-00739-3
Citation Information
Paraskevi Mara, Dean Vik, Maria G Pachiadaki, Elizabeth Suter, et al.. "Viral elements and their potential influence on microbial processes along the permanently stratified Cariaco Basin redoxcline"
The ISME Journal
(2020)
Available at: http://works.bepress.com/elizabeth-suter/15/