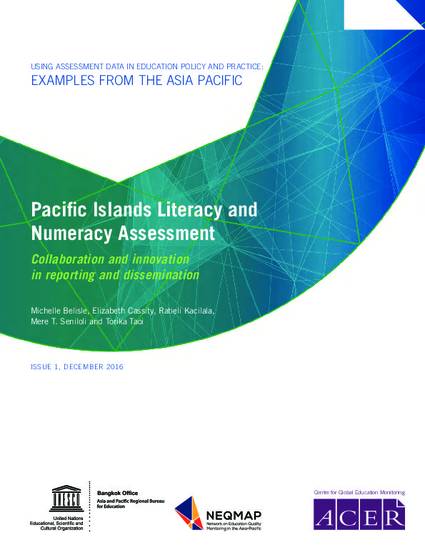 Other
Pacific Islands Literacy and Numeracy Assessment : Collaboration and innovation in reporting and dissemination
Assessment and Reporting
Publication Date
12-1-2016
Subjects
International programs, Developing countries, Literacy education, Numeracy, Large scale assessment, Educational innovation, Educational quality, Data collection, Reporting (Student achievement), Monitoring (Assessment), Information dissemination, Test results, Cooperation, Evidence based practice, Case studies, Year 4, Year 6, Primary education
Abstract
A range of stakeholders have identified, as a shared educational goal, the improvement of literacy and numeracy achievement in Pacific Islands countries. Geographically, the Pacific Islands region is one of the largest in the world, and hosts diverse populations and resources. Nevertheless, many countries in the region have identified literacy and numeracy as a common educational challenge. Within this context, the Pacific Islands Literacy and Numeracy Assessment (PILNA) provides data on the literacy and numeracy outcomes of students in 13 Pacific Islands countries who have completed Year 4 and Year 6. PILNA has developed as a consensual model. It facilitates discussion and requires that decisions be made cooperatively. Decisions are subject to the joint approval of regional and country participants. The model enables participating members to reach consensus in providing knowledge and data on student learning outcomes. As such, decisions about reporting and dissemination are made collaboratively, in a group environment – no individual determines how reports are to be written and disseminated. This case study explores PILNA's collaborative and innovative model of reporting and disseminating data to a range of educational stakeholders, including senior policymakers, administrators, teachers, parents and communities. Importantly, it explores the public dissemination of results in the second cycle of PILNA in 2015, and focuses on the implementation of a process that enabled greater transparency in the reporting of data. The case study begins with background information on PILNA and on the commitment of Pacific Islands governments to support it as an assessment of regional learning outcomes. The case study then discusses the operation of the PILNA model, which is a collaborative process for regional data sharing, reporting and dissemination. The case study proceeds to explore the process of dissemination endorsed by the PILNA Steering Committee. In particular, it discusses a three-stage strategy for further dissemination and use of PILNA results by participating countries. The case study concludes with a brief evaluation of the significance of PILNA's collaborative approach to reporting and dissemination.
Place of Publication
Melbourne and Bangkok
Publisher
Australian Council for Educational Research (ACER) and UNESCO
Citation Information
Belisle, M., Cassity, E., Kacilala, R., Seniloli, M. T., & Taoi, T. (2016). Pacific Islands Literacy and Numeracy Assessment: Collaboration and innovation in reporting and dissemination. (Using assessment data in education policy and practice: Examples from the Asia Pacific ; issue 1.) Melbourne: ACER and Bangkok: UNESCO.