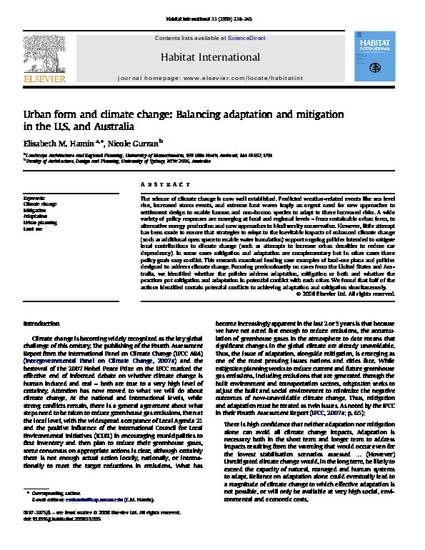 Article
Urban form and climate change: Balancing adaptation and mitigation in the U.S. and Australia
Habitat International (2009)
Abstract
The science of climate change is now well established. Predicted weather-related events like sea level rise, increased storm events, and extreme heat waves imply an urgent need for new approaches to settlement design to enable human and non-human species to adapt to these increased risks. A wide variety of policy responses are emerging at local and regional levels – from sustainable urban form, to alternative energy production and new approaches to biodiversity conservation. However, little attempt has been made to ensure that strategies to adapt to the inevitable impacts of enhanced climate change (such as additional open space to enable water inundation) support ongoing policies intended to mitigate local contributions to climate change (such as attempts to increase urban densities to reduce car dependency). In some cases mitigation and adaptation are complementary but in other cases these policy goals may conflict. This research examined leading case examples of land-use plans and policies designed to address climate change. Focusing predominantly on cases from the United States and Australia, we identified whether the policies address adaptation, mitigation or both and whether the practices put mitigation and adaptation in potential conflict with each other. We found that half of the actions identified contain potential conflicts to achieving adaptation and mitigation simultaneously.
Keywords
Climate change,
Mitigation Adaptation,
Urban planning,
Land use
Citation Information
Elisabeth M. Hamin and Nicole Gurran. "Urban form and climate change: Balancing adaptation and mitigation in the U.S. and Australia"
Habitat International
(2009)
Available at: http://works.bepress.com/elisabeth_hamin/6/