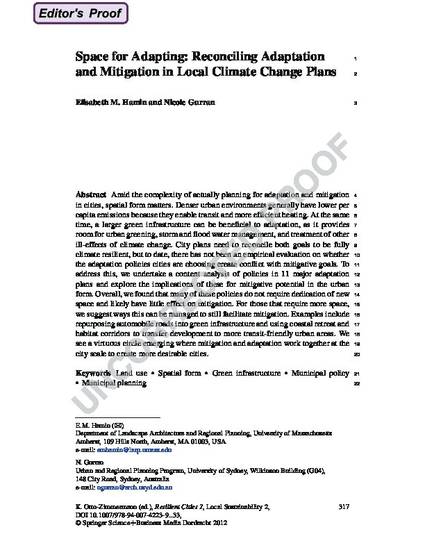 Contribution to Book
Space for Adapting: Reconciling Adaptation and Mitigation in Local Climate Change Plans
Resilient Cities 2: Cities and Adaptation to Climate Change - Proceedings of Global Forum 2011 (2012)
Abstract
Amid the complexity of actually planning for adaptation and mitigation in cities, spatial form matters. Denser urban environments generally have lower per capita emissions because they enable transit and more efficient heating. At the same time, a larger green infrastructure can be beneficial to adaptation, as it provides room for urban greening, storm and flood water management, and treatment of other ill-effects of climate change. City plans need to reconcile both goals to be fully climate resilient, but to date, there has not been an empirical evaluation on whether the adaptation policies cities are choosing create conflict with mitigative goals. To address this, we undertake a content analysis of policies in 11 major adaptation plans and explore the implications of these for mitigative potential in the urban form. Overall, we found that many of these policies do not require dedication of new space and likely have little effect on mitigation. For those that require more space, we suggest ways this can be managed to still facilitate mitigation. Examples include repurposing automobile roads into green infrastructure and using coastal retreat and habitat corridors to transfer development to more transit-friendly urban areas. We see a virtuous circle emerging where mitigation and adaptation work together at the city scale to create more desirable cities.
Keywords
Land use; Spatial form; Green infrastructure; Municipal policy; Municipal planning
Publication Date
May 4, 2012
Editor
Konrad Otto-Zimmermann
Citation Information
Elisabeth M. Hamin and Nicole Gurran. "Space for Adapting: Reconciling Adaptation and Mitigation in Local Climate Change Plans"
Resilient Cities 2: Cities and Adaptation to Climate Change - Proceedings of Global Forum 2011
(2012)
Available at: http://works.bepress.com/elisabeth_hamin/14/