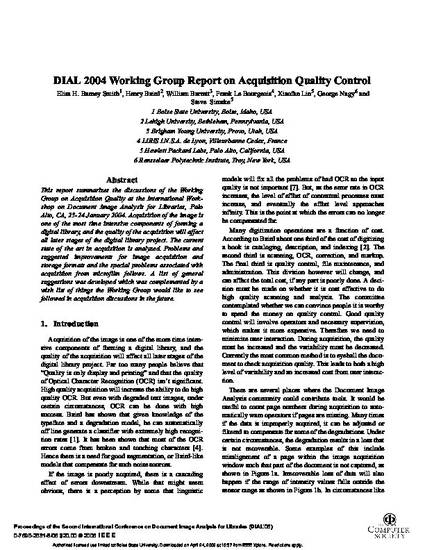 Article
DIAL 2004 Working Group Report on Acquisition Quality Control
Second International Conference on Document Image Analysis for Libraries, 2006
Document Type
Conference Proceeding
Publication Date
4-1-2006
DOI
http://dx.doi.org/10.1109/DIAL.2006.14
Abstract
This report summarizes the discussions of the Working Group on Acquisition Quality at the International Workshop on Document Image Analysis for Libraries, Palo Alto, CA, 23-24 January 2004. Acquisition of the image is one of the most time intensive components of forming a digital library, and the quality of the acquisition will affect all later stages of the digital library project. The current state of the art in acquisition is analyzed. Problems and suggested improvements for image acquisition and storage formats and the special problems associated with acquisition from microfilm follows. A list of general suggestions was developed which was complemented by a wish list of things the Working Group would like to see followed in acquisition discussions in the future.
Copyright Statement
This document was originally published by IEEE in Second International Conference on Document Image Analysis for Libraries, 2006. Copyright restrictions may apply. DOI: 10.1109/DIAL.2006.14
Citation Information
Elisa H. Barney Smith, Henry Baird, William Barrett, Frank Le Bourgeois, et al.. "DIAL 2004 Working Group Report on Acquisition Quality Control"
Second International Conference on Document Image Analysis for Libraries, 2006
(2006)
Available at: http://works.bepress.com/elisa_barney_smith/6/