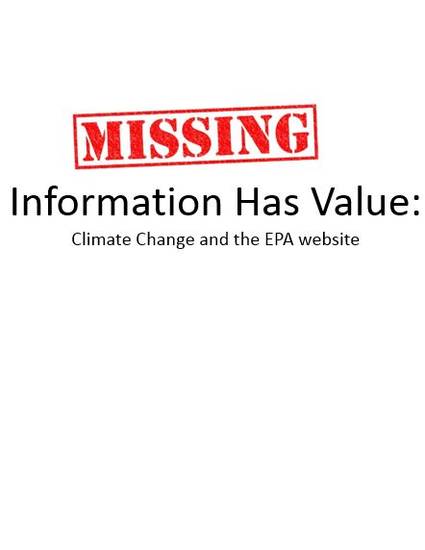 Presentation
Missing Information Has Value: Climate Change the and the EPA Website
Library Instruction West (2018)
Abstract
What happens when government web pages are hidden, moved, or deleted? In the age of "alternative facts" and the "politicization of science" one librarian was inspired by real world events to create an opportunity to dialogue about power dynamics and bias in a traditional one-shot instruction session. Environmental Science students critically analyzed the Environmental Protection Agency's (EPA) website and its treatment of climate change during the Trump, Obama, and Bush presidencies. The library "warm-up" activity was designed to raise awareness of data fragility and the long-term accessibility of government websites. As future science professionals, it's important to think about how this impacts scientists and their work. Students were introduced to several tools including: The Internet Archive's Wayback Machine, End of Term Archive, and Data Refuge.
This was a Pecha Kucha presentation. 20 slides x 20 seconds per slide = 6 minutes, 40 seconds.
Keywords
information has value,
information literacy,
climate change,
information access
Publication Date
July 20, 2018
Location
Grand Junction, CO
Citation Information
Elisa Slater Acosta. "Missing Information Has Value: Climate Change the and the EPA Website"
Library Instruction West
(2018)
Available at: http://works.bepress.com/elisa_acosta/24/