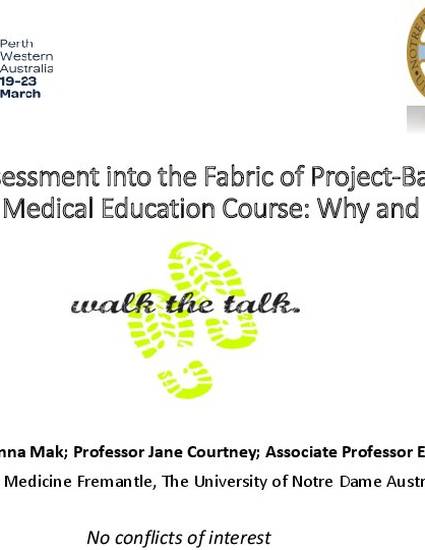 Presentation
Weaving Assessment into the Fabric of Project-Based Learning in a Medical Education Course - Why and How.pdf
Ottawa Conference 2016 (2016)
Abstract
ANZAPHE 2016 – PeArLs
WEAVING ASSESSMENT INTO THE FABRIC OF PROJECT-BASED LEARNING IN A MEDICAL EDUCATION COURSE: WHY AND HOW
Author(s) – Professor Donna Mak (Domain Chair Population and Preventive Health); Professor Carole Steketee (Associate Dean Teaching and Learning); Professor Jane Courtney (Domain Chair Clinical and Communication Practice); Professor Greg Sweetman (Director Postgraduate Medical Education Fiona Stanley Hospital & Discipline Leader Emergency Medicine); Elina Tor (Senior Lecturer, Assessment and Psychometrics)
Affiliation(s) – School of Medicine Fremantle, The University of Notre Dame Australia
Introduction/ Background
When carefully integrated into curriculum design, assessment is a powerful driver of learning. Additionally, assessment data is invaluable for informing future curriculum planning, monitoring student progress, and for informing and guiding future learning actions. However, assessment practices, if not underpinned by best practice principles, can undermine learning. One example of this is the dichotomization of the role of formative and summative assessment and, consequently, the fragmentation of learning and assessment.
A programmatic perspective is a paradigm shift in the assessment of competence in medical and health professional education. This perspective suggests that a program's curriculum and assessment frameworks are aligned and interconnected. Assessment tasks are embedded in the 'rhythm' of instruction, occurring at places where it makes educational sense to include them. Research has shown that instruction alone is not enough to produce rich changes in student performance, but it is through assessment tasks interwoven into the curriculum and instruction that educationally significant growth happens in students.
Purpose/Objectives
This session aims to firstly share our experience in designing and implementing a clinical audit - a capstone project-based assessment which is authentic, student-centred, and embedded in the curriculum and pedagogy for final year medical students.
Most importantly we hope to initiate and facilitate small group discussions with the participants on the following issues: Issues for exploration/ideas for discussion
1.How can we leverage the power of assessment to drive learning by integrating theformative and summative role of assessment modalities?
2.How can validity be 'built-in' for project-based assessment so that the results can serve as valid data points to inform student progression decision making?
3.How do we ensure buy-in from all stakeholders for a paradigm shift in regards to theintegration of assessment and learning?
Themes/Key Words: Designing Curriculum; Education for Practice
Keywords
Designing Curriculum; Education for Practice
Publication Date
March 22, 2016
Location
Perth Convention Centre, Perth, Western Australia
Citation Information
Elina Tor, Donna Mak, Carole Steketee, Jane Courtney, et al.. "Weaving Assessment into the Fabric of Project-Based Learning in a Medical Education Course - Why and How.pdf"
Ottawa Conference 2016
(2016)
Available at: http://works.bepress.com/elina-tor/7/