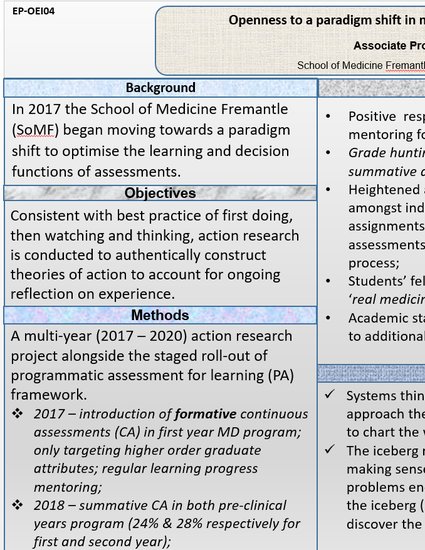 Presentation
Openness to a paradigm shift in medical education assessment – a case study
10th Asian Medical Education Association (AMEA) Symposium - 4th Industrial Revolution: Creating A New World for Health Professions Education. (12 - 14 April 2019) (2019)
Abstract
Background – In 2017 the School of Medicine Fremantle (SoMF) began moving towards a paradigm shift to optimise the learning and decision functions of assessments.
Methods – Consistent with best practice of first doing, then watching and thinking, a multi-year (2017 – 2020) action research project has been in place alongside the staged roll-out of programmatic assessment for learning (PA) framework in the SoMF since 2017. The aim of the action research is to authentically construct theories of action to account for ongoing reflection on experience.  The focus of this presentation is to use the SoMF context to further understanding of the nature and predictability of the challenges in shifting the paradigm underpinning assessment in medical education, as of issues that arise in dealing with them.
Results – This is an intermediate qualitative reporting to track the course of the move towards PA, from a change management perspective.  Overall, there are good strategies in place, active work underway, accompanied by reflection on what works.  Definitive theories of action, even commitment to the overall PA design, however, remain work in progress.
Conclusion – Acknowledging action takes precedence in the fast-paced world of medical education, the steering committee for PA in the SoMF will forge ahead and continue to figure things out as it goes along.
Keywords
Programmatic Assessment; Medical Education; Change Management
Publication Date
April 13, 2019
Location
International Medical University, Kuala Lumpur
Citation Information
Elina Tor. "Openness to a paradigm shift in medical education assessment – a case study"
10th Asian Medical Education Association (AMEA) Symposium - 4th Industrial Revolution: Creating A New World for Health Professions Education. (12 - 14 April 2019)
(2019)
Available at: http://works.bepress.com/elina-tor/13/