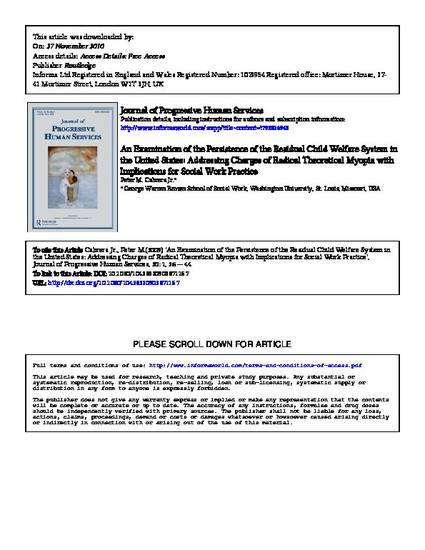 Article
An Examination of the Persistence of the Residual Child Welfare System in the United States: Addressing Charges of Radical Theoretical Myopia with Implications for Social Work Practice
Journal of Progressive Human Services (2009)
Abstract
The United States follows what has been termed a residual approach to its public child welfare system. This article describes the residual model and contrasts it with the policies of other industrialized nations. It also explores the causes and persistence of the residual model in the United States through the lens of structural-functionalist theory. By doing so, this article attempts to respond to critics of structural social work who maintain that it is overly reliant on conflict theory and has nothing to offer in terms of distinct practice methods. Suggestions for a structurally informed social work practice are made.
Keywords
residual child welfare,
radical social work,
structural social work,
child poverty
Citation Information
Peter Cabrera. "An Examination of the Persistence of the Residual Child Welfare System in the United States: Addressing Charges of Radical Theoretical Myopia with Implications for Social Work Practice"
Journal of Progressive Human Services
Vol. 20 Iss. 1 (2009)
Available at: http://works.bepress.com/elian_cabrera/5/