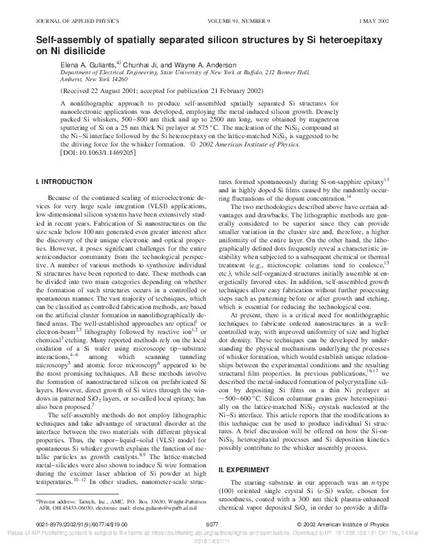 Article
Self-Assembly of Spatially Separated Silicon Structures by Si Heteroepitaxy on Ni Disilicide
Journal of Applied Physics
Publication Date
1-1-2002
Abstract
A nonlithographic approach to produce self-assembled spatially separated Si structures for nanoelectronic applications was developed, employing the metal-induced silicon growth. Densely packed Si whiskers, 500–800 nm thick and up to 2500 nm long, were obtained by magnetron sputtering of Si on a 25 nm thick Ni prelayer at 575 °C. The nucleation of the NiSi2 compound at the Ni–Si interface followed by the Si heteroepitaxy on the lattice-matched NiSi2 is suggested to be the driving force for the whisker formation.
Inclusive pages
6077-6080
Document Version
Published Version
Copyright
Copyright © 2002, American Institute of Physics
Publisher
American Institute of Physics
Citation Information
Elena A. Guliants, Chunhai Ji and Wayne A. Anderson. "Self-Assembly of Spatially Separated Silicon Structures by Si Heteroepitaxy on Ni Disilicide"
Journal of Applied Physics
Vol. 91 Iss. 9 (2002)
Available at: http://works.bepress.com/elena_guliants/25/