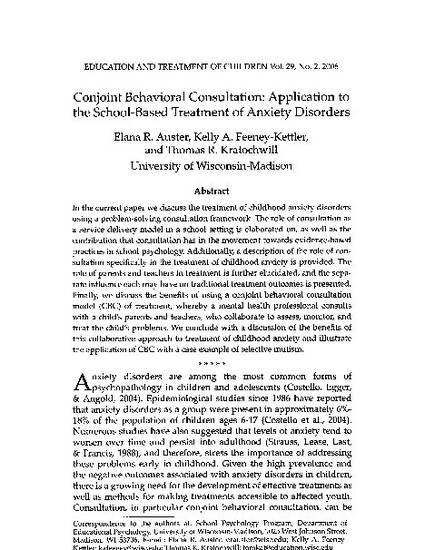 Article
Conjoint Behavioral Consultation: Application to the School-based Treatment of Anxiety Disorders
Education and Treatment of Children
Publication Date
5-1-2006
Abstract
In the current paper we discuss the treatment of childhood anxiety disorders using a problem-solving consultation framework. The role of consultation as a service delivery model in a school setting is elaborated on, as well as the contribution that consultation has in the movement towards evidence-based practices in school psychology. Additionally, a description of the role of consultation specifically in the treatment of childhood anxiety is provided. The role of parents and teachers in treatment is further elucidated, and the separate influence each may have on traditional treatment outcomes is presented. Finally, we discuss the benefits of using a conjoint behavioral consultation model (CBC) of treatment, whereby a mental health professional consults with a child's parents and teachers, who collaborate to assess, monitor, and treat the child's problems. We conclude with a discussion of the benefits of this collaborative approach to treatment of childhood anxiety and illustrate the application of CBC with a case example of selective mutism.
Document Version
Published Version
Copyright
Copyright © 2006, West Virginia University Press
Publisher
West Virginia University Press
Place of Publication
Morgantown, WV
Citation Information
Elana R. Bernstein, Thomas R. Kratochwill and Kelly A. Feeney-Kettler. "Conjoint Behavioral Consultation: Application to the School-based Treatment of Anxiety Disorders"
Education and Treatment of Children
Vol. 29 Iss. 2 (2006)
Available at: http://works.bepress.com/elana-bernstein/34/