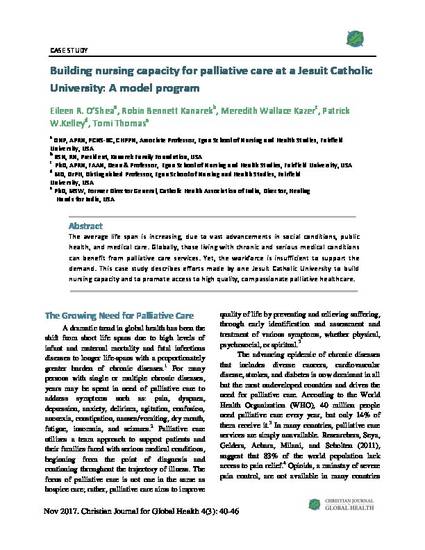 Article
Building Nursing Capacity for Palliative Care at a Jesuit Catholic University: A Model Program
Christian Journal for Global Health
Article Version
Publisher's PDF
Publication Date
1-1-2017
Abstract
The average life span is increasing, due to vast advancements in social conditions, public health, and medical care. Globally, those living with chronic and serious medical conditions can benefit from palliative care services. Yet, the workforce is insufficient to support the demand. This case study describes efforts made by one Jesuit Catholic University to build nursing capacity and to promote access to high quality, compassionate palliative healthcare.
Published Citation
O'Shea, E. R., Kanarek, R. B., Kazer, M. W., Kelley, P. W., & Thomas, T. (2017). Building nursing capacity for palliative care at a Jesuit Catholic University: A model program. Christian Journal for Global Health, 4(3), 40-46. doi:10.15566/cjgh.v4i3.192.
DOI
10.15566/cjgh.v4i3.192
Peer Reviewed
Citation Information
Eileen R O'Shea, Robin Bennett Kanarek, Meredith Wallace Kazer, Patrick W. Kelley, et al.. "Building Nursing Capacity for Palliative Care at a Jesuit Catholic University: A Model Program"
Christian Journal for Global Health
Vol. 4 Iss. 3 (2017)
Available at: http://works.bepress.com/eileen_oshea/14/