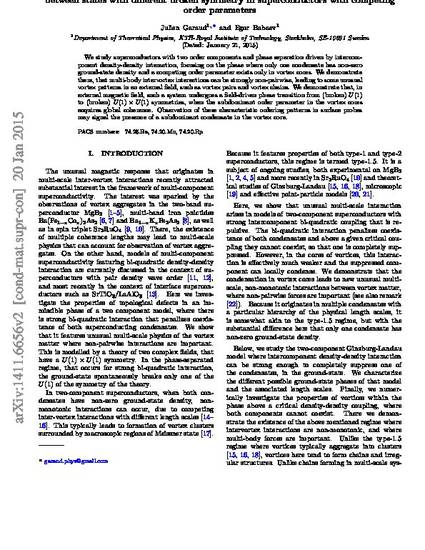 Unpublished Paper
Vortex Chains due to Nonpairwise Interactions and Field-Induced Phase Transitions Between States with Different Broken Symmetry in Superconductors with Competing Order Parameters
Physical Review B (2015)
Abstract
We study superconductors with two order components and phase separation driven by intercomponent density-density interaction, focusing on the phase where only one condensate has nonzero ground-state density and a competing order parameter exists only in vortex cores. We demonstrate there that multibody intervortex interactions can be strongly nonpairwise, leading to some unusual vortex patterns in an external field, such as vortex pairs and vortex chains. We demonstrate that in an external magnetic field such a system undergoes a field-driven phase transition from (broken) U(1) to (broken) U(1)×U(1) symmetries when a subdominant order parameter in the vortex cores acquires global coherence. Observation of these characteristic ordering patterns in surface probes may signal the presence of a subdominant condensate in the vortex core.
Citation Information
Julien Garaud and Egor Babaev. "Vortex Chains due to Nonpairwise Interactions and Field-Induced Phase Transitions Between States with Different Broken Symmetry in Superconductors with Competing Order Parameters"
Physical Review B
(2015)
Available at: http://works.bepress.com/egor_babaev/46/