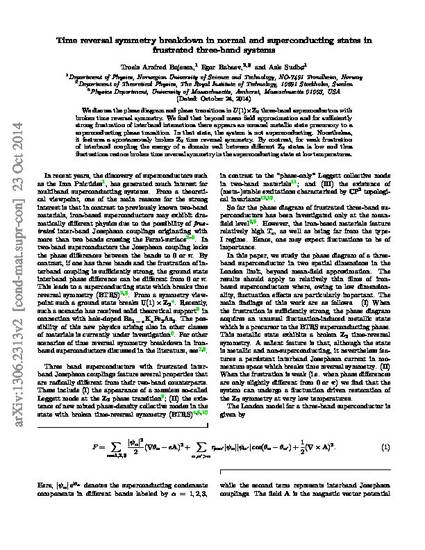 Unpublished Paper
Time Reversal Symmetry Breakdown in Normal and Superconducting States in Frustrated Three-Band Systems
Physical Review B (2013)
Abstract
We discuss the phase diagram and phase transitions in U(1)×Z2 three-band superconductors with broken time reversal symmetry. We find that beyond mean-field approximation and for sufficiently strong frustration of interband interactions there appears an unusual metallic state precursory to a superconducting phase transition. In that state, the system is not superconducting. Nonetheless, it features a spontaneously broken Z2 time reversal symmetry. By contrast, for weak frustration of interband coupling the energy of a domain wall between different Z2 states is low and thus fluctuations restore broken time reversal symmetry in the superconducting state at low temperatures.
Citation Information
Troels Arnfred Bojesen, Egor Babaev and Asle Sudbo. "Time Reversal Symmetry Breakdown in Normal and Superconducting States in Frustrated Three-Band Systems"
Physical Review B
(2013)
Available at: http://works.bepress.com/egor_babaev/43/