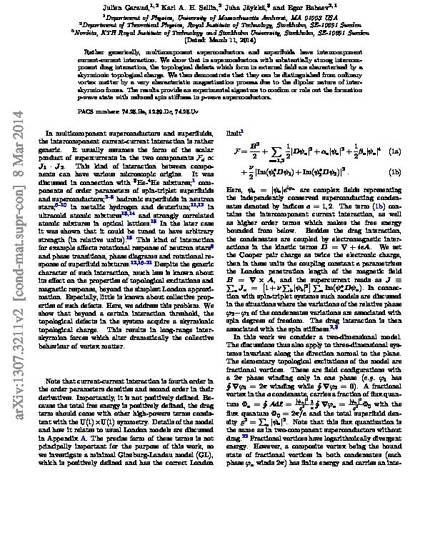 Unpublished Paper
Skyrmions Induced by Dissipationless Drag in U(1) U (1) Superconductors
Physical Review B 89 (2014)
Abstract
Rather generically, multicomponent superconductors and superfluids have intercomponent current-current interaction. We show that in superconductors with substantially strong intercomponent drag interaction, the topological defects which form in an external field are characterized by a skyrmionic topological charge. We then demonstrate that they can be distinguished from ordinary vortex matter by a very characteristic magnetization process due to the dipolar nature of inter-skyrmion forces. The results provide an experimental signature to confirm or rule out the formation p-wave state with reduced spin stiffness in p-wave superconductors.
Citation Information
Julien Garaud, Karl A. H. Sellin, Juha Jaykk and Egor Babaev. "Skyrmions Induced by Dissipationless Drag in U(1) U (1) Superconductors"
Physical Review B 89
(2014)
Available at: http://works.bepress.com/egor_babaev/40/