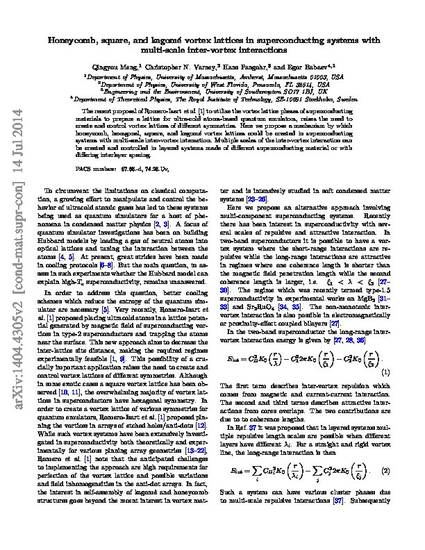 Unpublished Paper
Honeycomb, Square, and Kagome Vortex Lattices in Superconducting Systems with Multi-Scale Inter-Vortex Interactions
Physical Review B 90 (2014)
Abstract
The recent proposal of Romero-Isart et al. [1] to utilize the vortex lattice phases of superconducting materials to prepare a lattice for ultra-cold atoms-based quantum emulators, raises the need to create and control vortex lattices of different symmetries. Here we propose a mechanism by which honeycomb, hexagonal, square, and kagome vortex lattices could be created in superconducting systems with multi-scale inter-vortex interaction. Multiple scales of the inter-vortex interaction can be created and controlled in layered systems made of different superconducting material or with differing interlayer spacing.
Citation Information
Qingyou Meng, Christopher N. Varney, Hans Fangohr and Egor Babaev. "Honeycomb, Square, and Kagome Vortex Lattices in Superconducting Systems with Multi-Scale Inter-Vortex Interactions"
Physical Review B 90
(2014)
Available at: http://works.bepress.com/egor_babaev/34/