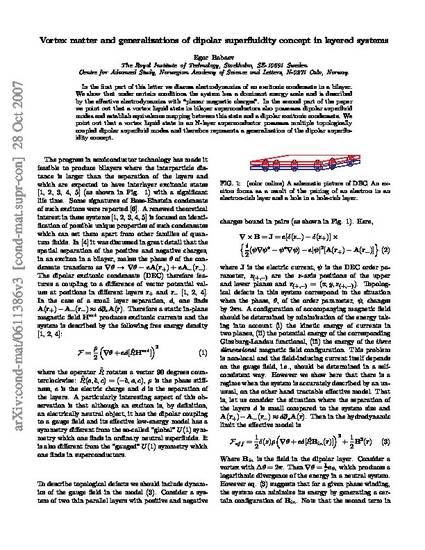 Article
Vortex Matter, Effective Magnetic Charges, and Generalizations of Dipolar Superfluidity Concept in Layered Systems
Physical Review B (2006)
Abstract
In the first part of this letter we discuss electrodynamics of an excitonic condensate in a bilayer. We show that under certain conditions the system has a dominant energy scale and is described by the effective electrodynamics with "planar magnetic charges". In the second part of the paper we point out that a vortex liquid state in bilayer superconductors also possesses dipolar superfluid modes and establish equivalence mapping between this state and a dipolar excitonic condensate. We point out that a vortex liquid state in an N-layer superconductor possesses multiple topologically coupled dipolar superfluid modes and therefore represents a generalization of the dipolar superfluidity concept.
Publication Date
November, 2006
Citation Information
Egor Babaev. "Vortex Matter, Effective Magnetic Charges, and Generalizations of Dipolar Superfluidity Concept in Layered Systems"
Physical Review B
Vol. 77 (2006)
Available at: http://works.bepress.com/egor_babaev/22/