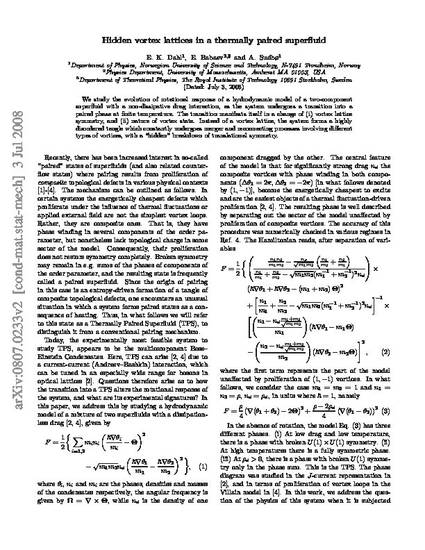 Article
Hidden vortex lattices in a thermally paired superfluid
Physics Review B
Abstract
We study the evolution of rotational response of a statistical mechanical model of two-component superfluid with a nondissipative drag interaction as the system undergoes a transition into a paired superfluid phase at finite temperature. The transition manifests itself in a change of (i) vortex-lattice symmetry and (ii) nature of the vortex state. Instead of a vortex lattice, the system forms a highly disordered tangle which constantly undergoes merger and reconnecting processes involving different types of vortices with a "hidden" breakdown of translation symmetry.
Citation Information
E. K. Dahl, E. Babaev and A. Sudbø. "Hidden vortex lattices in a thermally paired superfluid"
Physics Review B
Vol. 78 Iss. 14 (2008)
Available at: http://works.bepress.com/egor_babaev/10/