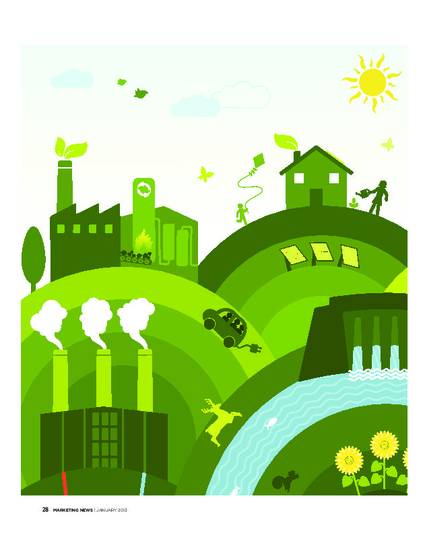 Article
Promoting the Value of Sustainably Minded Purchase Behaviors
Marking News
Publisher
American Marketing Association
Publication Date
1-9-2013
Abstract
Corporate environmental responsibility and sustainability have become mainstream. Coca-Cola has been working on alleviating global water scarcity, given that water is the primary ingredient of soft drinks and critical to Coca-Cola's future. Facebook has made public its "carbon footprint" emitted from its data centers for 2011 (equivalent to 285,000 metric tons of carbon dioxide), declaring that it aims to reduce it by 25% via clean energy by 2015. And Wal-Mart has erected its first commercial-scale wind turbine at its Red Bluff, Calif., distribution center to supply 15 to 20% of the facility's electricity needs at a substantial cost savings over the next 15 years.These cases reflect a significant transformation in corporate values from when we first started researching green marketing almost 20 years ago. Back then, environmental responsibility and profits were thought to be diametrically opposed to one another, and we set out to investigate how companies were attempting to integrate the two needs.
Citation Information
Edwin R Stafford and Cathy L. Hartman. "Promoting the Value of Sustainably Minded Purchase Behaviors"
Marking News
(2013) p. 28 - 33
Available at: http://works.bepress.com/edwin_stafford/42/