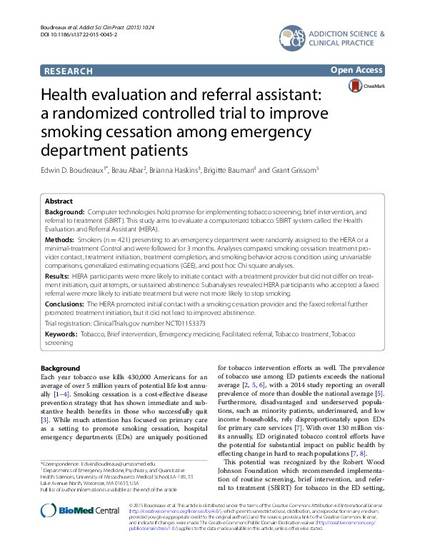 Article
Health evaluation and referral assistant: a randomized controlled trial to improve smoking cessation among emergency department patients
Open Access Articles
UMMS Affiliation
Department of Emergency Medicine
Abstract
BACKGROUND: Computer technologies hold promise for implementing tobacco screening, brief intervention, and referral to treatment (SBIRT). This study aims to evaluate a computerized tobacco SBIRT system called the Health Evaluation and Referral Assistant (HERA).
METHODS: Smokers (n = 421) presenting to an emergency department were randomly assigned to the HERA or a minimal-treatment Control and were followed for 3 months. Analyses compared smoking cessation treatment provider contact, treatment initiation, treatment completion, and smoking behavior across condition using univariable comparisons, generalized estimating equations (GEE), and post hoc Chi square analyses.
RESULTS: HERA participants were more likely to initiate contact with a treatment provider but did not differ on treatment initiation, quit attempts, or sustained abstinence. Subanalyses revealed HERA participants who accepted a faxed referral were more likely to initiate treatment but were not more likely to stop smoking.
CONCLUSIONS: The HERA promoted initial contact with a smoking cessation provider and the faxed referral further promoted treatment initiation, but it did not lead to improved abstinence.
TRIAL REGISTRATION: ClinicalTrials.gov number NCT01153373.
Keywords
Tobacco,
Brief intervention,
Emergency medicine,
Facilitated referral,
Tobacco treatment,
Tobacco screening
Creative Commons License
Creative Commons Attribution 4.0
Citation Information
Edwin D. Boudreaux, Beau Abar, Brianna Haskins, Brigitte Bauman, et al.. "Health evaluation and referral assistant: a randomized controlled trial to improve smoking cessation among emergency department patients" Vol. 10 (2015) ISSN: 1940-0632 (Linking)
Available at: http://works.bepress.com/edwin_boudreaux/99/