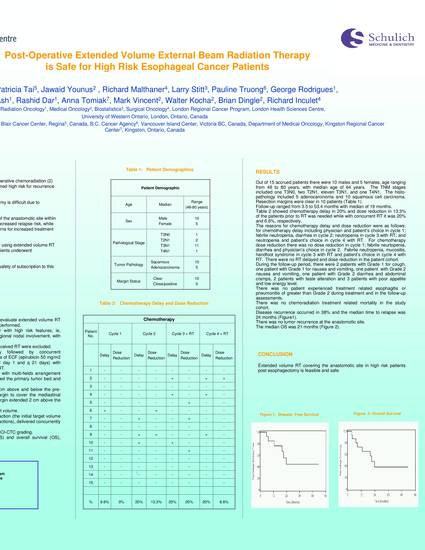 Presentation
Post-Operative Extended Volume External Beam Radiation Therapy Is Safe for High Risk Esophageal Cancer Patients
Oncology Presentations
Document Type
Presentation
Publication Date
1-1-2007
Abstract
Post-operative radiation therapy (RT) (1) and post-operative chemoradiation (2) have been used for esophageal cancer patients deemed high risk for recurrence after esophagectomy.
Defining opitmal RT target volume after esophagectomy is difficult due to significant changes in patient anatomy and function.
Some radiationon cologists advocated the inclusion of the anastomotic site within the irradiation volume due to concerns for potential increased relapse risk, while others did not subscribe to this practice due to concerns for increased treatment related toxicity.
We have previously reported patient outcome benefit using extended volume RT In management with high risk esophageal cancer patients underwent esopagectomy(3).
We have performed a Phase I study to evaluate the safety of subscription to this practice.
(1). Folk et al, Surgery, 113:1993
(2). Bedard et al, Cancer, 91;2001
(3). Yu et al, Radiother & Oncol, 73;2004
Citation Information
Edward Yu, Patricia Tai, Jawaid Younus, Richard Malthaner, et al.. "Post-Operative Extended Volume External Beam Radiation Therapy Is Safe for High Risk Esophageal Cancer Patients" (2007)
Available at: http://works.bepress.com/edwardyu/36/