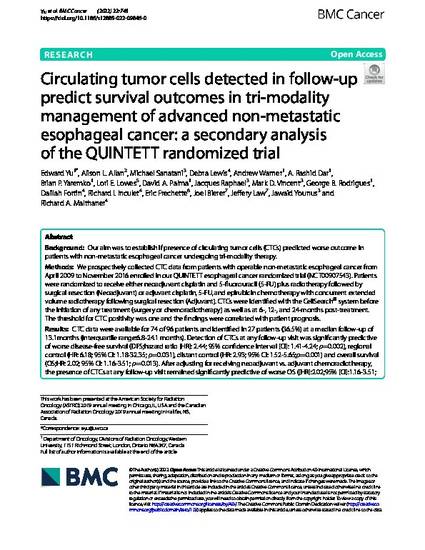 Article
Circulating tumor cells detected in follow‑up predict survival outcomes in tri‑modality management of advanced non‑metastatic esophageal cancer: a secondary analysis of the QUINTETT randomized trial
BMC Cancer (2022)
Abstract
Background: Our aim was to establish if presence of circulating tumor cells (CTCs) predicted worse outcome in
patients with non-metastatic esophageal cancer undergoing tri-modality therapy.
Methods: We prospectively collected CTC data from patients with operable non-metastatic esophageal cancer from
April 2009 to November 2016 enrolled in our QUINTETT esophageal cancer randomized trial (NCT00907543). Patients
were randomized to receive either neoadjuvant cisplatin and 5-fluorouracil (5-FU) plus radiotherapy followed by
surgical resection (Neoadjuvant) or adjuvant cisplatin, 5-FU, and epirubicin chemotherapy with concurrent extended
volume radiotherapy following surgical resection (Adjuvant). CTCs were identified with the CellSearch® system before
the initiation of any treatment (surgery or chemoradiotherapy) as well as at 6-, 12-, and 24-months post-treatment.
The threshold for CTC positivity was one and the findings were correlated with patient prognosis.
Results: CTC data were available for 74 of 96 patients and identified in 27 patients (36.5%) at a median follow-up of
13.1months (interquartile range:6.8-24.1 months). Detection of CTCs at any follow-up visit was significantly predictive
of worse disease-free survival (DFS;hazard ratio [HR]: 2.44; 95% confidence interval [CI]: 1.41-4.24; p=0.002), regional
control (HR: 6.18; 95% CI: 1.18-32.35; p=0.031), distant control (HR: 2.93; 95% CI: 1.52-5.65;p=0.001) and overall survival
(OS;HR: 2.02; 95% CI: 1.16-3.51; p=0.013). After adjusting for receiving neoadjuvant vs. adjuvant chemoradiotherapy,
the presence of CTCs at any follow-up visit remained significantly predictive of worse OS ([HR]:2.02;95% [Cl]:1.16-3.51;p=0.013) and DFS (HR: 2.49;95% Cl: 1.43-4.33; p=0.001). Similarly, any observed increase in CTCs was significantly
predictive of worse OS (HR: 3.14; 95% CI: 1.56-6.34; p=0.001) and DFS (HR: 3.34; 95% CI: 1.67-6.69; p<0.001).
Conclusion: The presence of CTCs in patients during follow-up after tri-modality therapy was associated with significantly poorer DFS and OS regardless of timing of chemoradiotherapy.
Keywords
Circulating tumor cells,
Prognostic,
Non-metastatic,
Esophageal cancer
Publication Date
Summer June 30, 2022
DOI
10.1186/s12885-022-09846-0
Citation Information
Edward Yu, Alison Allan, Michael Sanatani, Debra Lewis, et al.. "Circulating tumor cells detected in follow‑up predict survival outcomes in tri‑modality management of advanced non‑metastatic esophageal cancer: a secondary analysis of the QUINTETT randomized trial"
BMC Cancer
Vol. 22 Iss. 1 (2022) p. 746
Available at: http://works.bepress.com/edwardyu/120/