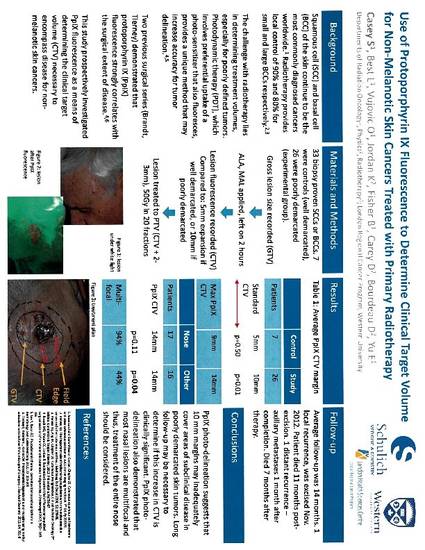 Presentation
Use of protoporphyrin fluorescence to determine clinical target volume for non-melanotic skin cancers treated with primary radiotherapy
ASTRO (2014)
Abstract
Purpose:
This study prospectively investigated Protoporphyrin (PpIX) fluorescence as a means of determining the clinical target volume (CTV) necessary to encompass subclinical disease for non-melanotic skin cancers.
Methods and Materials:
PpIX photo-delineation was performed on 30 patients by applying δ-aminolevulinic acid (ALA) or Metvix™ (MAL) cream to the lesions to be treated, in order to delineate a CTV prior to treatment with radiotherapy. This CTV was then compared to conventional margins for subclinical disease (10 mm for poorly demarcated tumors).
Conclusions:
PpIX photo-delineation suggests that conventional 10 mm margins may be inadequately covering areas of subclinical disease in poorly demarcated skin tumors. Longer follow-up may be necessary to determine if this increase in CTV is clinically significant. PpIX photo-delineation also showed a trend for nasal lesions to be multifocal. 
Keywords
PDT,
target volume,
delineation,
non-melanotic skin cancer
Publication Date
Fall September 14, 2014
Location
San Francisco ,CA, USA.
Citation Information
Stephanie Casey, Lara Best, Olga Vujovic, Kevin Jordan, et al.. "Use of protoporphyrin fluorescence to determine clinical target volume for non-melanotic skin cancers treated with primary radiotherapy"
ASTRO
(2014)
Available at: http://works.bepress.com/edwardyu/105/