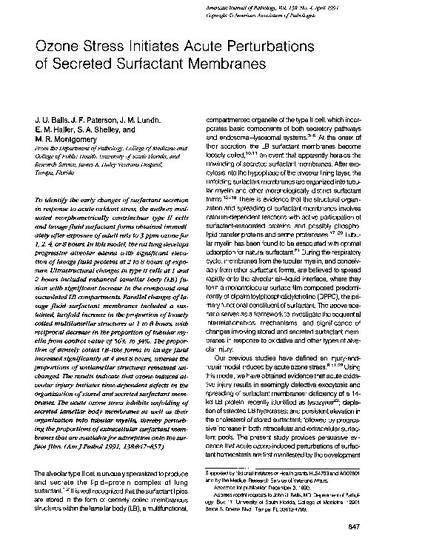 Article
Ozone Stress Initiates Acute Perturbations of Secreted Surfactant Membranes
American Journal of Pathology
Publication Date
4-1-1991
Abstract
To identify the early changes of surfactant secretion in response to acute oxidant stress, the authors evaluated morphometrically centriacinar type II cells and lavage fluid surfactant forms obtained immediately after exposure of adult rats to 3 ppm ozone for 1, 2, 4, or 8 hours. In this model, the rat lung develops progressive alveolar edema with significant elevation of lavage fluid proteins at 2 to 8 hours of exposure. Ultrastructural changes in type II cells at 1 and 2 hours included enhanced lamellar body (LB) fusion with significant increase in the compound and vacuolated LB compartments. Parallel changes of lavage fluid surfactant membranes included a sustained, twofold increase in the proportion of loosely coiled multilamellar structures at 1 to 8 hours, with reciprocal decrease in the proportion of tubular myelin from control value of 56% to 34%. The proportion of densely coiled LB-like forms in lavage fluid increased significantly at 4 and 8 hours, whereas the proportions of unilamellar structures remained unchanged. The results indicate that ozone-induced alveolar injury initiates time-dependent defects in the organization of stored and secreted surfactant membranes. The acute ozone stress inhibits unfolding of secreted lamellar body membranes as well as their organization into tubular myelin, thereby perturbing the proportions of extracellular surfactant membranes that are available for adsorption onto the surface film.
Rights Information
Default Rights Statement
Citation / Publisher Attribution
American Journal of Pathology, v. 138, issue 4, p. 847-857
Citation Information
John U Balis, James F Paterson, Jane M Lundh, Edward M Haller, et al.. "Ozone Stress Initiates Acute Perturbations of Secreted Surfactant Membranes"
American Journal of Pathology
Vol. 138 Iss. 4 (1991) p. 847 - 857
Available at: http://works.bepress.com/edward_haller/9/